7 Surprising Baccarat Rituals & Superstitions
Baccarat is a Live Casino game that has long been steeped in mystery and superstition. Whilst very simple in concept, there are many complex rituals and somewhat strange superstitions surrounding the casino table game, but this only makes it more interesting. It's true that baccarat is very much a game of luck - once you've placed your bets, there's nothing you can do to influence the outcome of a round. However, that doesn't stop many players, especially in Asia, from doing their best to make things go their way. Read on to learn about the seven most surprising baccarat rituals and superstitions practiced and believed by many a credulous player around the world.
1. The Squeeze
The baccarat card squeeze is perhaps the most well-known and practiced ritual at the baccarat table. The squeeze refers to how the cards are revealed, and will often be performed in land based casinos, but you're most likely to witness it in Macau. Typically, cards in baccarat are dealt face up, but if the squeeze is going to be performed, they will be dealt face down. The croupier will choose a player to reveal the hand that they have bet on - this is a slow and rather deliberate process, whereby the croupier will bend the first card upwards along one side, rotate 90 degrees then bend upwards along the adjoining side, each time revealing only the suit symbols along each edge. The number is concealed throughout this sequence with a carefully placed thumb. The idea is to build up anticipation and tension around the baccarat table, as players can gain a little information about the cards whilst the value remains a secret.
However, the ritual of the squeeze runs a little deeper than simple theatre, as many players in Asia believe the rubbing and squeezing of the card can change its value before it's fully revealed. The number of suit symbols along the sides of the card narrows its value down to the player, and if they are dissatisfied, they will try to change it. You'd be right in thinking that the cards end up completely destroyed by the end of the round - they are actually disposed of and replaced by new ones.
If you want to experience the famous baccarat ritual for yourself, you can do so anytime, anywhere right here at 21.co.uk. In Live Baccarat Squeeze your croupier will perform the entertaining squeezing ritual before revealing the outcome of each round.
2. Blowing On Cards
Many superstitious players in China believe that they can change the outcome of a hand by blowing on the cards. They do this in the hope of "blowing away" a bad number. This leads back to the belief in the Far East that the outcome of a round can be changed by the player. The blowing ritual will often result from the squeeze, should the superstitious player not be happy with the current hand. For example, they may know that they have been dealt either a seven or an eight, but need a six to make nine. Players will often blow on the card in the hope of changing its value to their desired number. If that doesn't work, you might even see someone stabbing a card with a ballpoint pen for extra good luck.
3. Searching For Trends and Pattern Tracking
If you've ever played baccarat in the casinos of Macau, you will almost certainly have seen players with pens and pieces of paper in front of them, noting things down as the game unfolds. Pattern tracking has long been practiced by baccarat enthusiasts who like to record the outcome of every round, in the hope of spotting patterns and placing well-timed bets when they see a 'pattern' develop. Of course, baccarat is a game of chance. For example, there's no guarantee that because the banker has won three consecutive rounds that the player is due a win as every round is an independent event, but that doesn't seem to dampen a superstitious player's belief in the power of patterns in baccarat results. Players may well come to completely opposite conclusions about what these so called patterns mean in terms of which way to bet, but that doesn't seem to deter them from bringing their pen and notepad to the casino.
If you enter a casino in Macau, expect to see players wandering around, searching for tables showing a trend. Many baccarat players believe in the luck of other players just as much as their own. These players will search the baccarat tables in hope of finding one at which three or more straight wins for the banker or player have occured. The intention is to then bet on a 4th and even 5th straight win. City of Dreams, a popular casino in Macau, has even installed monitors at baccarat tables for the purpose of aiding gamblers who want to track trends. These monitors display the outcomes of the last twenty or thirty rounds played at that particular table, meaning gamblers can compare and decide which table to bet at. You can be assured that if a trend appears, it will draw a crowd.
Take a look at the main baccarat road maps below.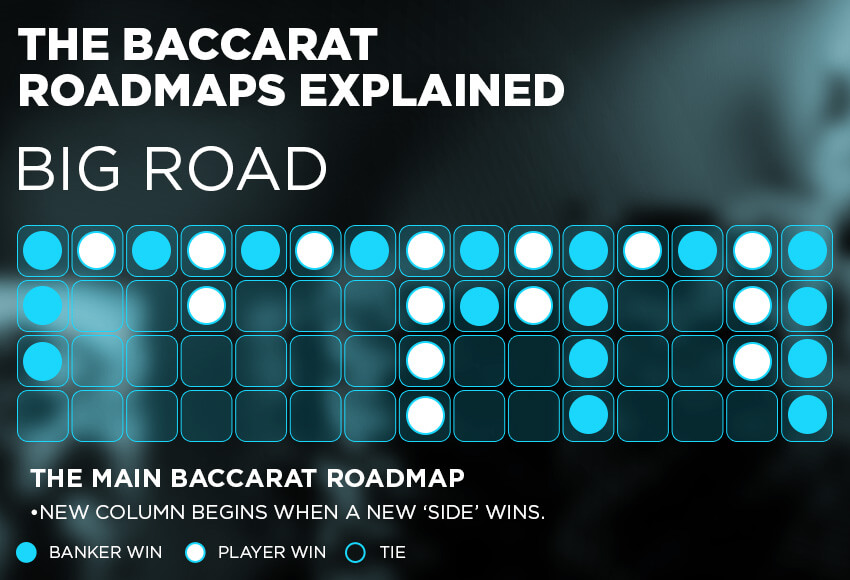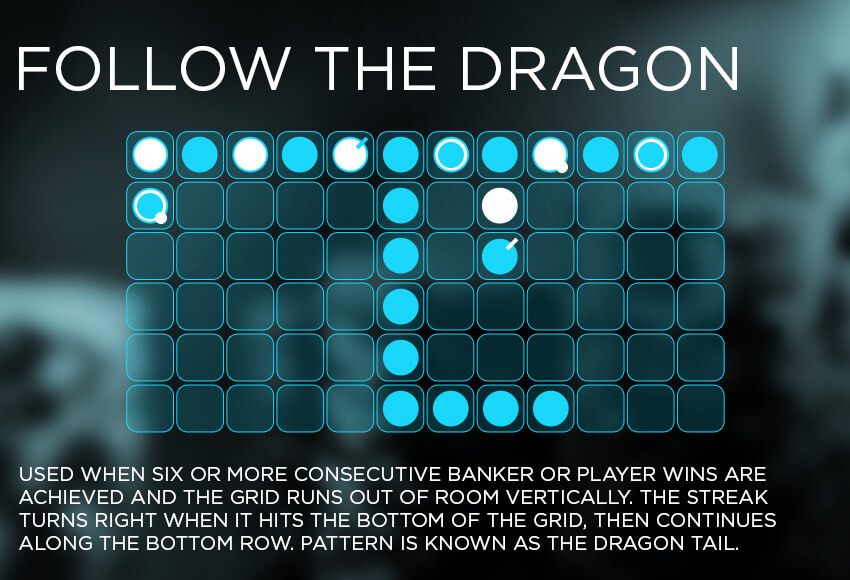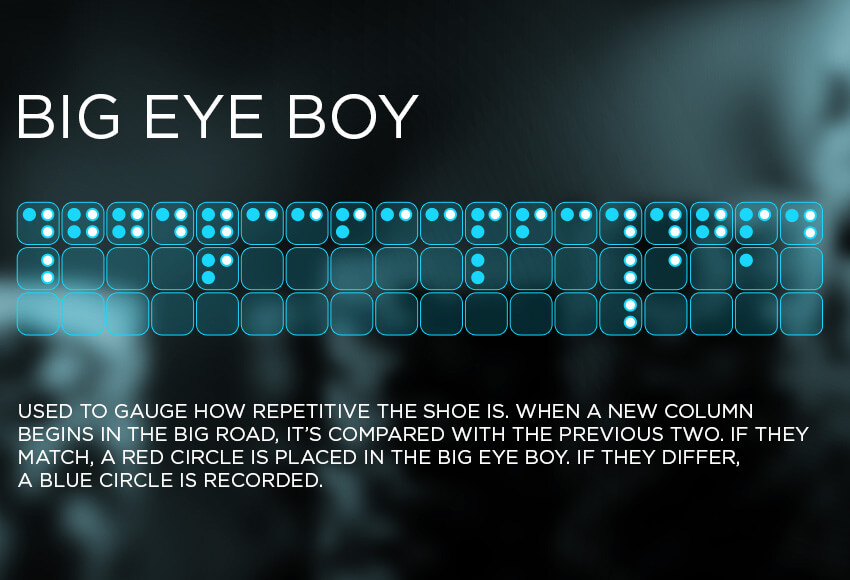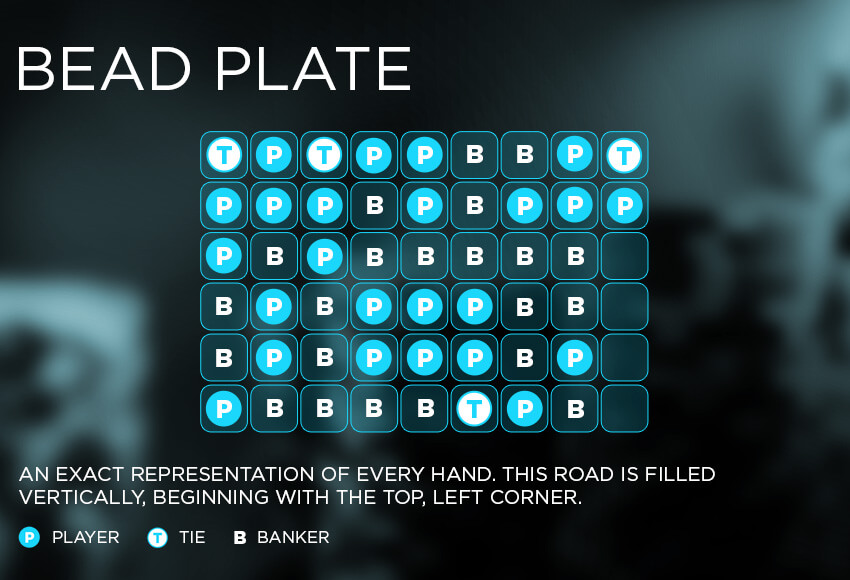 4. Ripping Up Cards
Yes, there's even more destruction in a game of baccarat than just the ritual of the squeeze. Many players in Macau and other parts of Asia will rip up the cards if they bet on a losing hand. Perhaps what's even more surprising is that many casinos in Macau allow this - you might want to avoid giving this a try in the UK.
5. Tapping a Glass or Ashtray
Another unique ritual often practiced at the baccarat table is tapping a nearby glass or ashtray with a pen. As previously covered, many baccarat players will come to the casino equipped with pen and paper. However, the pen may have another purpose besides writing. As cards are being dealt, you might see gamblers tapping a glass or ashtray with a pen, as they believe this ritual will bring them the cards they need.
6. Playing at the Same Dealer's Table
For the superstitious baccarat player, choosing a table is an important ritual. If players experience several consecutive wins, they will not want to budge from that dealer's table. Likewise, if they experience a bad session with a particular dealer they'll believe said dealer has brought them bad luck and are likely to pick up their chips and leave the table. Many baccarat players will have a particular croupier in mind when they enter the casino, and others they deem unlucky and wish to avoid. If their 'lucky' dealer is switched to an 'unlucky' one, they're more than likely to leave the table when the dealers are switched.
7. Wearing Red
It's probably a well-known fact that the colour red is special in Chinese culture. It represents joy and happiness, and is often worn at celebrations. It also symbolises luck. This is why many baccarat players may be wearing something of this colour at the casino. If you've ever played baccarat in a high roller or VIP room, you may have noticed that they are often decked out in red. If you take a seat at one of our Live Baccarat tables, your croupier will be dressed in red. This is a nod to baccarat's Chinese roots.
Play Live Baccarat at 21.co.uk
If you want to experience what is perhaps the most mysterious card game in the world, you can play Live Baccarat right here at 21.co.uk whenever you like. Though you may not witness most of these rituals in action in the online casino, you can check out Live Baccarat Squeeze for one of the most fascinating processes in the world of gambling, and take a look at a few baccarat roadmaps in most of our Live Baccarat games, plus the percentage of rounds the player and banker have each won. You can even view the Big Road for each Live Baccarat table in the Live Casino lobby, as it's displayed in the thumbnail. So, if you're feeling superstitious, or just can't decide which Live Baccarat table to take a seat at, these roadmaps may help you out.
£10 free - No deposit required
T&Cs apply. New players only. Opt in required. 99x wagering requirement. Maximum single stake with a bonus of £5. £50 max win and withdrawal for non-depositors. 7 day expiry. Only bonus stakes contribute towards wagering requirements. Not all games contribute towards wagering. Players unable to place sports bet with an active casino bonus. 18+ Begambleaware.org
100% First Deposit Bonus
T&Cs Apply. New players only. Opt in required. 100% deposit match on casino up to £50. 40x wagering requirement on bonus. Maximim single stake with a bonus of £5. 30 day expiry. Only bonus stakes contribute to wagering requirements. Not all games contribute towards wagering. Players unable to place sports bet with an active casino bonus. claim £50. 18+ Begambleaware.org