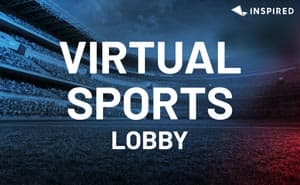 Virtual Sports Lobby
Virtual Sports Betting at 21.co.uk
The will of bookmakers to ensure there are regular events for punters to bet on has seen virtual sports betting become one of the leading markets on most sportsbooks. 21.co.uk's online casino offers three virtual sports to choose from, which are available 24 hours a day. Each virtual sport has a new event every three minutes and they are set so that there will be an event starting on one of the sports every minute, giving you the opportunity to bet on an event and find out the result within four minutes. For football betting fans there is virtual football, while virtual horse racing offers fans of horse racing betting around the clock action. The final virtual sport offered is virtual greyhound racing. They all work in a similar way with the outcome generated by a non bias computer algorithm. Now, we can't offer our predictions for virtual sports because it's completely random, but if you're looking for predictions for real life football, we recommend checking out our sports betting tips page.
Virtual Football Betting
Virtual football betting at 21.co.uk is modelled on international football matches. Kicking off every three minutes, you are presented with a high quality stream of the virtual game in order to watch whether your bets come in. But before the game starts, you probably want to know what markets are available. The result, correct score and total goals markets are all there as you would expect. The over/under market for the number of goals in a game is available from 0.5 to 3.5. The first team to score, double chance and HT/FT result complete the markets meaning that in total there are ten to choose from for any given game.
Virtual Greyhound Racing Betting
Virtual greyhound racing offers only four markets but the possible combinations within some of the markets mean that there are many more combinations of bets to choose from. As in virtual football, you are presented with a stream of the virtual action with a new race on the track every three minutes. There are always six greyhounds to bet on with virtual names ranging from Swift Cliff to Dark Knight. But what are the markets on virtual greyhounds? The winner market and placing 1-2 market are the two standard markets probably more suited to beginners. Alternatively, forecast and tricast offer the option to make multiple selections for each finishing position in return for higher virtual sports betting odds.
Virtual Horse Racing Betting
Virtual horse racing betting is almost identical to virtual greyhound racing here at 21.co.uk. The names of the virtual horses are just as colourful featuring ones such as Betting Blue and Blue Exit. The only major difference, apart from them being virtual horses rather than virtual greyhounds, is that there are ten runners rather than six. That leads to only a slight change in the available virtual sports betting markets with the place market moving to the top three places. The other three markets - winner, forecast and tricast remain unchanged.
Virtual Sports Betting Glossary
We've defined some key markets in virtual sports betting.
Forecast - This is a market available in both virtual greyhounds and virtual horse racing where you bet on which runner you think will place first and which will place second. You can also bet on them to be in either order using the "any" selection.
Tricast - This is where you bet on which riders will finish 1st, 2nd and 3rd in the exact position. Alternatively, using the "any" selection you can bet on the three to finish in any order within the podium places.
Total Goals (Virtual) - This is where you bet on the number of goals you think will be scored between both teams in the virtual football match. On our virtual football market this is guaranteed to be between 0 and 4.
Betting at 21.co.uk
Virtual sports is only one of the betting markets available at 21.co.uk. In the real world of sports betting you can also find F1 betting and NBA betting. If you're not interested in either of them then why not try our range of the best casino games? Online Roulette and Online Blackjack are just two of the favourites that can be found there with our live casino offering many more options.
Now, although we absolutely love our virtual sports here at 21.co.uk, we admittedly prefer the real thing. Especially around the time of Euro 2020 and Cheltenham, both of which we'll be providing guides, tips and predictions for, so be sure to check out our Cheltenham 2021 Tips and then once the big event has concluded we'll be looking ahead with our Euro 2021 group stage betting Tips.