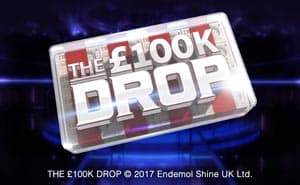 100K Drop
The 100k Drop slot has 5 reels and 20 paylines, as well as one bumper bonus feature.
The £100K Drop Slot Buttons
Total Stake
You can alter your by using the (+) button to increase your stake and the (-) button to reduce your stake.
Auto
You can select the Auto button to spin the reels for a selected amount of rounds at the stake of your choice.
Pays
You can select the Pays button to view the winlines available and how to activate the Bonus feature in The £100K Drop Slot.
Spin
Once you have selected your stake you can press the Spin button to begin the game.
The £100K Drop Slot Bonus Feature
When you receive 3 Bonus features on the reels you will activate The £100K Drop Bonus feature. In this bonus feature there are 4 rounds of the £100K Drop, and any cash left at the end of the final round will be awarded. The Bonus will begin with 1000x stake in cash to play with. In each round, the cash must be distributed between the available trapdoors, once all of the cash has been placed the trapdoors will open. Any cash on a trapdoor that opens will be removed from the bonus feature.