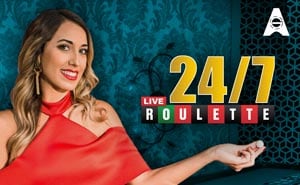 24/7 live roulette
About 24/7 Roulette
24/7 Roulette provides round the clock access to one of the most popular online casino games in the UK. Winning numbers are entertainingly lit up and the table frequently glows red as a warning to players that they should speed up their play. There's a warm, friendly welcome from the croupiers whose polished manners and professionalism instantly create an engaging rapport that's particularly reassuring for newcomers.
The fast-paced action is streamed live from a studio in Malta and offers several camera angles. With High Definition transmission, the screen quality in this casino game) is superb. In fact, the cinematic screening creates such a successful illusion it's easy to believe you're participating in the action of a real casino. There's even a tinkling soundtrack to help put you at ease. 24/7 Roulette has been specifically designed for mobile and tablet compatibility and plays as successfully in iOS and Android formats as on a full-sized PC.
How to Play 24/7 Roulette
With an emphasis on entertaining, interactive play, screen navigation has been kept refreshingly simple. In the absence of a free play mode, new players will appreciate the bystander facility which allows you to observe the game in progress before joining in the action.
Customisable settings can be adjusted at the top-right corner of the screen. Options include choosing a variety of camera angles and playing on different screen sizes. From the bottom left of the screen you can view the details of your playing history, a record of individual number performances and which are the most likely hot and cold numbers.
When you want to join a game you can access the table by clicking the button at the bottom right of the screen. Your chip stack is also in this location. To place a bet simply select a chip then click on the table where you want it to be positioned. Wagering decisions can be reversed, increased or cleared.
24/7 Roulette Rules and Stats
The Return To Player (RTP) rate is 97.3% with a standard house edge of 2.7% which means your wagering should bring a fairly regular stream of moderate rewards. The betting odds are evens for red/black, odds/evens, or high/low and increase to 2/1 for a column or dozen. A six-line is rated at 5/1, corners at 8/1 and a street is 11/1. The odds for a split is 17/1 and for a straight, you can enjoy a reward of 35/1. You can view detailed analytics which includes a record of the most recent 250 spins.
Special Features in 24/7 Roulette
By following the European format, this Online Roulette game is perfectly aligned for practising complex wagering strategies such as the d'Alembert or Martingale systems and there are VIP and private tables available, which suit those looking for a more exclusive experience. You can place special bets such as voisins du zero, orphelins and jeu zero and there is also a favourite bets feature which saves your preferred betting strategies to re-use later.
As a new player here at 21.co.uk, you can claim a fantastic no deposit casino offer.