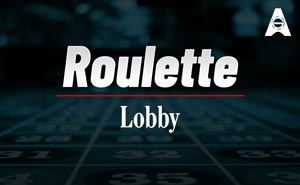 Authentic Roulette Lobby
Authentic Gaming delivers an 'authentic' and real gaming atmosphere through their fantastic gaming technology. Customers will get a fully immersive spectrum of roulette games and different features. These games are all available on mobile, tablet and desktop.
They are set in luxurious locations and provide the most professional live dealers to give players a real casino experience. You'll get the exclusive live casino feel from the many different camera angles and casino environments.
What To Expect
Players will enter a luxurious European style lobby upon launch. From here you will be taken smoothly to the roulette table of your choice. There will be a betting panel at the bottom of the screen where you will place your wager. Other parts of the screen shows the smart croupiers, who guide you through each spin.
Roulette Studio
Authentic Gaming streams from first-class gambling resorts. These include the Saint-Vincent Resort & Casino, Casinos Austria International, Casino International Batumi, Platinum Casino at the Radisson BLU and Casino Bucharest at the Intercontinental Hotel.
The roulette offering is available on mobile, tablet and desktop. There's also some cool features including visible hot and cold numbers, you can repeat your last bet and also save your chip layout.
Game Selection
The lobby is brimming with live roulette games, below are the ones you can choose from here at 21.co.uk:
Blaze Live Roulette Casino Floor Live Roulette Authentic Roulette Live Foxwoods Auto Roulette Live Classic 1 Auto Roulette Live Classic 2 Auto Roulette Live Speed 1 Auto Roulette Live Speed 2 Authentic Roulette Turbo Authentic Roulette Platinum Casino Authentic Roulette Live Royal Casino Auto Roulette Live Duo Authentic Roulette Casino International Authentic Roulette Duo International
Authentic Roulette Professional Authentic Roulette Original Authentic Roulette Duo St Vincent
Live Dealers
As the Authentic Gaming roulette games are based on land-based resorts their roulette games attempt to be as real as it gets. The croupiers will not greet you upon arrival, they remain professional and let their proficiency lead each spin. This has received positive feedback, as some suggest the chit-chat between games can be distracting.