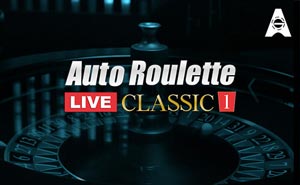 Auto Roulette Classic
Auto Roulette Classic 1
The interface here is uncomplicated and straightforward. Anyone familiar with the rules of classic European Roulette will find this game pretty much what they expect. It is a fast-paced roulette game that gets in a lot of spins in a short amount of time.
Playing Auto Roulette Classic 1
Auto Roulette Classic 1 distinguishes itself from other roulette games in the Authentic Gaming family with a 25-second betting time. In other words, you only have 25 seconds from the conclusion of one spin to place your bets for the next spin. An entire spin takes a mere 63 seconds from start to finish.
Pay attention and you will notice that, at the conclusion of each spin, the roulette wheel automatically rotates until the winning number is in the 10 o'clock position. This is necessary in order to facilitate the next spin. A vacuum pulls the marble in from that position, then a burst of compressed air starts the wheel spinning and fires the marble back into play.
Lasers read the position of the marble at the conclusion of each spin so that the computer can determine winners and losers. It is all pretty cool. The speed and timing of this game are truly something to behold.
Betting in Auto Roulette Classic 1
Betting is accomplished by dragging and dropping chips onto the betting table. This is a European game with a single zero but with the added bonus of the racetrack for those extra bets. The game also tracks statistics for 250 consecutive spins to enhance your roulette betting strategy.
Place as many bets as you want– up to the limits of the table and the chips in your bankroll. If you're interested, you can save your favourite bets for one-click wagering at any point in your session. You have access to the complete range of European bets including individual numbers, groups of numbers, and so forth.
All of your inside bets are located at the top section of the betting table. Your outside bets are just below. We recommend spending some time learning about the different kinds of bets before you play. Why? Because European roulette offers more than 40 different betting possibilities.
Winning in Auto Roulette Classic 1
Place your bets within the 25-second limit and you are ready to go. Now it's a matter of seeing if you guessed correctly. A correct guess pays out according to the odds of the winning bet. A loss clears your chips from the table so that you can start over again.
If you are a fan of auto roulette and fast-paced games without a lot of talking in between, Auto Roulette Classic 1 could be the game you've been looking for.