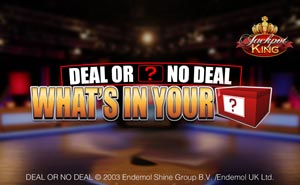 Deal or no Deal - What's In Your Box
Playing Deal or No Deal Slot Game Gameplay is pretty straightforward for anyone familiar with video slots. Adjust your bet level using the up and down arrow buttons to the left of the play area; use the 'Spin' or 'Auto Spin' button at the right of the play area to start the wheels in motion. Then sit back and watch as the reels spin and gradually stop. If three or more matching symbols land on any payline then you're a winner!
There's no need to worry about choosing paylines in Deal or No Deal as all 20 are active for every spin. You may want to keep your eye on the symbols as they fall into place. Why? Because Wild symbols can combine with other like symbols to create wins. They do not substitute for the 5 Bonus symbols found in Deal or No Deal, though. But that's okay. The Bonus symbols are linked to extra bonus games that can add significantly to your total winnings.
Deal or No Deal Slot Game Extra Features
Landing three like Bonus symbols on a single payline during standard play triggers the What's in Your Box Bonus. This bonus actually contains five different games, thus the five different Bonus symbols. The game you play is determined by the Bonus symbols you land. The possibilities include:
- Two different picking games (Deal or No Deal and the Go All the Way Bonus) - Two different free spins bonuses (Seal of Success and Power Play free spins) - A trail game known as the Trail of Wealth.
The two picking games are uniquely designed to mimic the action of the original TV series. You'll be under pressure as you choose from a series of boxes containing prizes. If the phone rings while you're playing, you'll have to decide whether to keep what you have or take a new deal.
A second extra feature in Deal or No Deal is known as the Banker's Bonus. It is activated randomly during standard play by a ring of the telephone. After you take the call, you will be presented with three red boxes to choose from. Each of the boxes contains one of the following prizes:
- Random Wilds - Mystery Symbols - Re-spin Streak
- Colossal Symbols - Bonus Re-spin
The Deal or No Deal TV game show was popular because it offered viewers nonstop action that kept them on the edge of their seats. Deal or No Deal: What's in Your Box is the video slot equivalent. So, do you think you're up for it? There's six amazing bonus features that'll leave you feeling like a winner:
- Go All The Way Bonus - Trail Of Wealth Bonus - Seal Of Success Bonus - Powerplay Bonus - Deal or No Deal Bonus - Feature Gamble
Jackpot King Promotional Pot How does the Jackpot King prize increase? Well less than 0.13% of each stake is transferred into the Reserve pot. When one of the players wins the Jackpot King Pot, the Jackpot will start again using the funds that have built up in the Reserve Pot. The Jackpot is funded by the initial seed, as well as that it is also funded by 0.86% of each stake, with an additional 0.13% being placed into the Reserve Pot.
##Progressive Jackpot Slot Games Progressive Jackpots can lead to big wins. The more players that get involved, the bigger the jackpot is! To learn more about progressive jackpots take a look at our progressive jackpots blog post. We'll also give you some of our favourite progressive jackpot slot games such as Genie Jackpots and Top Cat. If you are already an progressive jackpot expert take a look at our Jackpots slots catalog where you will be certain to find the slot game for you.