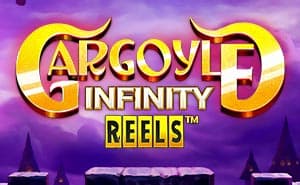 Gargoyle Infinity Reels
About Gargoyle Infinity Reels
Reel Play's Infinity Reels mechanic has all the potential to be the next big thing in online casino gaming but to do so, they'll need to release several games of the same quality as Gargoyle Infinity Reels. This online slot provides our players with a series of brilliant features and the opportunity to land jackpot-standard wins across any single spin. The first question that may enter new slots players' minds is: What are Infinity Reels? Infinity Reels begin on retro-style 3x3 reels but expand with every winning combination. In this particular slot, reels also expand with two or more scatters landing on the reels. Winning combinations also trigger a respin, which allows players to combine wins, expanding the reels significantly and increasing the likelihood of big wins. The reels will continue to build until a spin occurs with no new winning combinations.
What makes this particular UK slot so unique is that it combines retro and modern slots together to create a game that is the best of both worlds. A fantasy theme is fitting for the otherworldly experience that Reel Play has provided here.
Everything You Need To Know About Gargoyle Infinity Reels
Reels: Reels begin at 3x3, can expand an unlimited amount
Paylines: Varies depending on the size of the reels
Slot Theme: Fantasy
Maximum Win: 888x the player's stake
Volatility: High
Main Bonus Round: Enhanced Ways Free Spins
Free Spins?: Yes
Jackpot?: Yes
How To Play Gargoyle Infinity Reels
Set Your Stake
To set your stake on the Gargoyle Infinity Reels slot, click on the total bet option located at the bottom-left corner of the screen. This will bring up a selection of 12 stakes for players to choose from. Click on the option that best matches your bankroll and get ready to play. Alternatively, players can also click the coins button on the left-hand side of the screen.
Spin
After settling on a specific stake, players must then decide whether they wish to slowly spin the reels using the manual spin feature or quickly using the autoplay feature. Neither option alters the gameplay of the slot but simply determines the speed the game is played at. To spin manually, click the spin button on the right-hand side. To spin the reels automatically, use the autospin feature described below.
Autospin
On the screen's left-hand side, you will find a play button with a rotation symbol around it. This is the autospin button, clicking on this button will allow players to select a set number of spins to play with. These spins will stop when:
There is not enough in the player's balance. The number of spins have played out. Players click the stop button that appears on the screen during the bonus.
Gargoyle Infinity Reels Standard Bonus Features
Free Spins
Most of the fantastic casino games on 21.co.uk will have some sort of bonus round revolving around free spins. Gargoyle Infinity Reels is one of those games. Land three or more scatter symbols on the reels to activate the Enhanced Ways, Free Spins bonus round. In this bonus, players will begin with 10 Free Spins, and wild symbols have a significantly increased chance of landing on the reels. When wilds land on the reels, an additional symbol will appear on the next reel. These symbols can land until they go six positions high and if players land a wild as the sixth symbol, it will unveil a random jackpot bonus.
21.co.uk Review
Reel Play are well-known for bringing fantastic, innovative gaming to casinos around the world and it is games like Gargoyle Infinity Reels that have provided them with that reputation. With the Infinity Reels mechanic, a fantastic theme and the brilliant Enhanced Free Spins bonus round, there is a lot to be in awe about when playing this game. If you're looking for a unique slots experience, this is definitely one of our top recommendations.
Alternatively, if Gargoyle Infinity Reels isn't for you, we recommend something with a more linear gameplay experience, like online blackjack and roulette - both of which can be found at the 21.co.uk live casino.