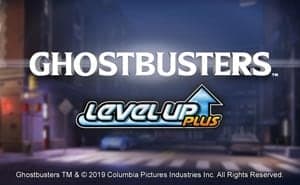 Ghostbusters Plus
About Ghostbusters Plus
Spin the reels of IGT's Ghostbusters Plus slot and see if the ghoul fighting gang could lead you through the city streets to discover some spectre-acular bonus features. Joining the top online casino UK, this 5-reel 3-row online casino game stays true to the retro-80's vibe of the original movies, IGT has developed this slot with unmatchable attention to detail, right down to the flickering Ghostbusters logo street sign. They have built a strong reputation within the online casino market with their brilliantly creative offering of the best casino games with exceedingly immersive themes, taking Harley Davidson Freedom Tour for example, which takes players on a ride across the reels with one of America's biggest biker gangs - Ghostbusters Plus is no exception.
If you're a fan of pop culture themed slots, such as some of our most popular slot games at 21.co.uk, The Goonies slot and Beavis and Butthead slot, then you may want to try your hand at Ghostbusters Plus. This casino game is complete with supernatural symbols such as ghosts, ghouls and the ghostbusters themselves, and a frightening format that presents 21.co.uk players with plenty of bonus features - all of which could offer potentially valuable wins of up to 25,000x. Join the band of busters on the reels of Ghostbusters Plus across mobile, tablet and desktop, or on the 21.co.uk casino app.
How to Play Ghostbusters Plus
Stake
Before you spin the reels of Ghostbusters Plus, a stake must be set. To do this, use the (+) and (-) keys to toggle through the available bet amounts until you reach a value you believe is suitable for your bankroll. You can alter this after each spin has ended if you change your mind.
Spin
Once a wager is set and you're ready to play Ghostbusters Plus, hit the Spin button. This will allow the game to play through a single round, randomising the symbols and deducting the set bet value from your balance. Any wins will be highlighted at the end of each spin.
Autoplay
21.co.uk players have the opportunity to play through a set amount of rounds automatically. Simply use the Autoplay settings to select the number of predetermined spins you'd like the game to go through, the feature will end if a bonus round or a jackpot is triggered or if the single win limit is hit. Players can also opt to end Autoplay manually by hitting the stop button at any time.
Ghostbusters Plus Special Features
Ghost Battle
Get your proton packs at the ready as it's time to bust some ghosts. The Ghost Battle feature is triggered when a single ghoul symbol lands on reel 3, the players are then transported to an off-reel set up where they must blast ghosts in return for Ghost Wilds. Each time a ghost is zapped they will drop a Ghost Wild which will be added to your Ghost Queue, they may take up to 3 hits before they retreat - should players fully deplete a ghost's health metre it will be captured and they will level up.
Ghost Wilds
Players receive Ghost Wilds during the Ghost Battle feature and are held in the Ghost Queue. The leftmost Wild in the queue will become active at the beginning of each spin and is applied to that round. At the start of the game, when the player is level 1, only Multiplier Ghost Wilds with a value of 3x, 5x and 10x are playable but other Wild types are unlocked as players level up.
Equipment Feature
From Ecto Goggles to Ghost Sniffers, there's no equipment out of bounds for 21.co.uk players in Ghostbusters Plus slot. As players level up throughout the game different equipment types are unlocked for players use, starting with the iconic Proton Pack at level 1 - each piece holds a different outcome which you will be awarded upon unlocking.
Tobin's Spirit Guide
Brush up on your supernatural skill by unlocking Tobin's Spirit Guide. As players progress through the levels they will continue to defeat and collect ghosts, once all 9 are collected Tobin's Spirit Guide will become available.
LevelUp Plus
This online slot offers an uncommon feature for players to enjoy, 21.co.uk players have the opportunity to advance through levels of the game. To do this, you must defeat and collect ghosts and ghouls through the Ghost Battle feature.
Zuul Free Spins
Keep an eye on reels 1, 3 and 5 for Zuul the Gatekeeper of Gozer making an appearance. Should this demigod appear, the game will trigger the Zuul Battle round. Zap Zuul 5 times to be awarded 5 free spins and five Ghost Wilds. This feature can be re-triggered on any spin by landing 3 more symbols in reels 1, 3 and 5.
21.co.uk Verdict...
Play along once again with the big screen's favourite ghostbusting quadruple in IGT's Ghostbusters Plus slot. Revive all of the memorable moments from the hit 80's movies, as this online casino game contains some of the most iconic moments in a bonus feature format. Alongside symbols featuring the ghoul fighting gang and memorable ghostly figures such as the Giant Marshmallow man, there's plenty of bonus features for players to uncover on their hunt for scarily valuable winning potential. If you're a player whose slot preference falls within the realm of pop-culture themes, take a look at some of our other online casino games with a blockbuster focus and a bonanza of brilliant bonus features, such as Mars Attacks slot or Top Cat slot.