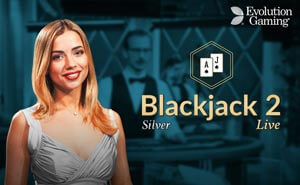 Live Blackjack Silver 2
About Blackjack Silver
Blackjack Silver's creator has developed multiple levels of VIP blackjack to accommodate individual preferences. At each level, betting limits go up. As such, more exclusive games like Blackjack Silver cater to high rollers. If this sounds like the UK casino games you would enjoy playing, you might be a perfect candidate for Blackjack Silver.
You will have access to a limited number of online blackjack tables reserved for VIP players like you. Two tables operate seven hours daily, bringing you live blackjack action with high definition video and live sound. Interaction between you, the dealer, and other players is encouraged with a text-based chat function.
Playing Blackjack Silver
All of our Live Blackjack games are played with the pre-decision feature. What is this feature? It allows each player at the table to simultaneously play their hands. Where you would have to wait for each player in succession in a land-based casino, all the players engaged in our live blackjack games make their moves simultaneously. This speeds up the game considerably and allows for more hands in a shorter amount of time.
Playing is as simple as logging in to your 21.co.uk no deposit online casino account and clicking the Blackjack Silver link on our live table games page. You will be taken to one of the two open tables and offered a seat, if one is available. If all seats are taken, you can still bet from behind until one becomes open.
You can play Blackjack Silver using your PC or mobile device. Just drag chips onto the table to place your bets and wait for the cards to be dealt. Then you can stand, hit, double, or split as normal. Doubling and splitting are only allowed after the first deal, and you cannot split after you have doubled.
Blackjack Silver Rules
All of the common rules of blackjack you are already familiar with are in play with Blackjack Silver. The dealer must draw to 16 and stand at 17. Blackjacks payout 3 to 2, and dealer blackjacks pay 2 to 1 when backed by insurance. Two side bets – the Perfect Pairs and 21+3 bets – are available at the start of each hand.
Play Blackjack Silver Here
We know there are plenty of places online you can play blackjack. We believe 21.co.uk is your best bet, given our huge selection of online slots, table games, and live casino games. We invite you to play Blackjack Silver here 21.co.uk. We trust you will enjoy your experience during every session.
After your Blackjack Silver session, consider checking out our extensive selection of video slots. We offer all the most popular titles online, including a variety of progressive jackpot games. With so many titles to choose from, what more could you ask for?