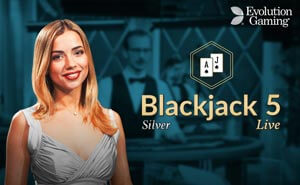 Live Blackjack Silver 5
Live Blackjack at its Finest
We are confident in saying that Blackjack Silver represents live blackjack at its finest. This is no top casino online game, employing modern graphics and smooth animation. It is so much more than that. Blackjack Silver is live blackjack being played in a beautifully designed, well apportioned studio. You are connected to the game over the internet by way of HD audio and video feeds.
Games are controlled by professionally trained dealers who double as presenters. They have extraordinary skills in both areas, making your live casino experience more enjoyable than ever. And yes, you can interact with your dealer by using the built-in chat tool. That same tool can be used to interact with other players at your table as well.
How Blackjack Silver Works
Thanks to the latest internet technologies, Blackjack Silver is capable of hosting up to seven seated live players per table. Additional players can get a piece of the action even when all of the seats are full. How? By betting from behind. And because our online casino can handle a virtually unlimited number of players betting from behind, you can always get in on a game.
Blackjack Silver offers two exclusive VIP tables open daily. The hours are limited, but seven hours per day at each table affords you plenty of time to enjoy a few hands.
Online play is facilitated by a combination of HD video and computer-controlled graphics. Just as with a video-based blackjack game, you use your mouse or finger to place your bets and make your moves. All the chips and buttons you need to play are found at the bottom of the screen.
Play Blackjack Silver on Any Device
No live table game could lay claim to being a VIP game if multiple devices weren't accommodated. No worries here. Blackjack Silver is playable on any modern PC, smartphone, or tablet. If you have an internet connection and a device to log on, you can play Blackjack Silver from just about anywhere. What's more, there is no special software required. Just log in to the 21.co.uk site, navigate to the Blackjack Silver page, and start playing.
Blackjack Silver is a new way to play blackjack online but in a live setting. It has been designed for those who prefer higher stakes, with exclusive tables and higher betting limits. Blackjack Silver is the perfect live blackjack game for players who like higher limitpopular casino games and side bets, and the opportunity to bet from behind. So, are you ready to pull up a virtual chair and start playing?