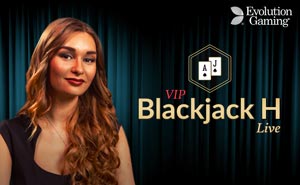 Live Blackjack VIP H
Built On Live Gaming
VIP Live Blackjack is built on the concept of bringing live gaming to online casino players through real-time audio and video in our no deposit casino. This live casino game delivers crystal-clear streaming thanks to HD cameras installed in strategic locations around the studio. You will not miss a detail as the Live Blackjack game unfolds in front of you.
Making this game a truly VIP experience is the job of professionally trained dealers who know how to make the of being behind the camera. It is further enhanced by the higher betting limits VIP games are known for. And of course, being a red table game means that VIP Live Blackjack is open only to VIP high rollers.
As a 21.co.uk guest, you deserve the opportunity to enjoy this game. Every time you play you will be joining other guests who have earned the right to play with higher betting limits.
Play Your Blackjack Strategy
There is no shortage of blackjack strategies that you can employ at the table. Unfortunately, the best strategies fall short in video-based games because the human element is removed. Not so with VIP Live Blackjack. Because this is a live game being played by up to seven players at the same table, the human element is once again in play. You can play your favourite online blackjack strategy just as you would at a land-based casino.
If you would like to practice your strategy without sitting at the table, you can do so by betting from behind. Every VIP Live Blackjack table allows for a virtually unlimited number of players choosing seated players to bet behind. Choose your player, place your bets, and let that person play the cards for you. It is a great way to practice.
Live Blackjack: Play Anytime, Anywhere
We know that playing blackjack is not confined to normal business hours, which is why our tables are open 24/7.
As an added bonus, you can play from virtually anywhere you have an internet connection. VIP Live Blackjack works seamlessly across all devices – desktop and laptop PCs, smartphones, and tablets. Any modern device should do just fine.
Around-the-clock availability and multiple device support make VIP Live Blackjack incredibly convenient. As a VIP player, you deserve that kind of convenience. If you are a fan of both blackjack and live play, we invite you to experience VIP Live Blackjack.