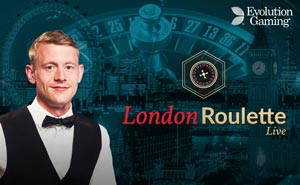 Live London Roulette
About Live London Roulette
Live London Roulette is based on European rules, so regular roulette players should have no trouble getting into the swing of things. Players are connected to the roulette studio via live video and audio feeds that offer the full sight and sound experience. Croupiers are an important part of the experience as well.
Each croupier is professional fully trained in two areas: casino gaming and live presentation. Croupiers and players can interact with one another via live audio and text-based chat. And, of course, everything happens in real time. Live London Roulette is not simulated by computer software; it is a real game being played with a genuine roulette wheel.
Live London Roulette: Game Description
The presentation offered by Live London Roulette is nothing if not extremely classy. Evolution Gaming has gone to great lengths to create an experience as similar as possible to a land-based casino in London. The croupiers are sophisticated and well dressed, the studio is elegantly decorated, and the game is presented with the same kind of first-class treatment you would expect in a land-based setting.
Logging in to a live game creates a dual presentation on your screen. You will see a live video feed of your croupier and roulette wheel along with computer-generated poker chips and game controls. The computer-generated graphics are essentially your toolbox for interacting with both the game and the croupier.
Be sure the sound on your device is turned up. Why? Because you are going to want to hear the wheel spinning and the marble rattling around and dropping into its slot. Actually hearing the action is one of the things that sets live roulette apart from computer-simulated games.
Playing Live London Roulette
Live London Roulette plays like any other roulette game. The wheel consists of 37 numbered and coloured slots. Numbers 1 through 36 are alternately coloured red and black; the zero slot is coloured green.
The play table consists of a grid of numbers representing each slot on the wheel. Outside of the grid are extra spaces accounting for high probability bets like odd/even and red/black. You place your bets by dragging chips onto the table in whatever way you see fit.
Wagering is where it really pays to study roulette. Unlike slots and poker games, roulette offers dozens of different ways to wager. Outside bets – the ones covered on the perimeter of the grid – have lower odds and hence lower payouts. Inside bets placed within the grid have higher odds and consequently offer higher payouts.
If you wanted to bet on a single number, you would place chips on that number. If you placed chips directly to the left of the first number in a row, you would be betting on that entire row. You can bet on rows, columns, trios, numbers in groups of 12 or 18, and more.
The key is knowing how to place your chips in order to make a specific kind of bet. So if you're not familiar with roulette wagering, you might want to do some reading before you play.
One last thing to note is that winning chips stay on the table. You can choose to leave them there for the next spin if you want to, but you have to actively clear the table otherwise. There is a button in the game's control panel for doing just that.
Live London Roulette: Extra Features
Live London Roulette offers a great extra feature that regular roulette players love. The feature is known as Favourite Bets. Click on the appropriate button at the bottom of your screen to activate the feature. Here you can record and store up to 15 of your favourite bets. Any time you want to use one of them, you just click the button again and select it from the list of saved bets.
Favourite Bets makes it possible for you to use a few key bets without having to remember them over a long period of time. By storing them, you have the ability to place one or more with just a click or tap. Better yet, your favourite bets are stored and ready for use across all Evolution Gaming's live roulette titles. You can use them in Live London Roulette or any of our other Evolution roulette games.
Live London Roulette is your opportunity to experience a genuine, real-time roulette game without having to visit a land-based casino. Why not give it a try today?
Want to unlock £5 free to play on Live Casino Games?
Stake £50, Get £5 On Live Casino
Get Our Live Casino Bonus Offer
Full T&Cs apply. New players only. 7 days to claim offer and deposit £50 with further 7 days to wager on Live Casino 1x. Wagering contributions vary. £5 bonus has 3 day expiry to use on any eligible Evolution game.