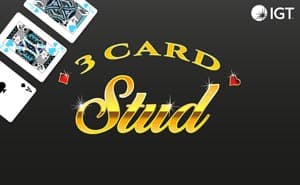 Three Card Poker
About Three Card Poker
Three Card Poker offers a welcome alternative to the standard Poker set up and has grown in popularity among the pros in UK casinos as well as worldwide. It sticks with the standard 52 card deck in play. However, players are dealt three cards and must use only those to achieve a hand higher than that of the dealer, rather than using 2 they are dealt and 5 on the board to achieve their best 5-card hand or bluffing their way to victory in this fantastic take on poker casino games.
How to Play Three Card Poker
Ante Bet
This is a prerequisite wager you must set before any cards are dealt. You toggle between chip amounts to set your bet value and once you're set, hit the 'Deal' button to have the dealer roll out the cards and see what hand you're playing with. If your hand beats the dealers, the payout is dependent on the value of the hand (e.g. high card, pair, flush etc)
Play Bet
After you've seen your hand and had time to contemplate it, you must make a decision. Should you decide your hand isn't strong enough to go up against the dealer, for example, if your highest card is a 5, you can fold. However should you think your hand is solid and has a high chance of paying out, you must pay a 'Play' wager to continue playing the hand.
Three Card Poker Special Features
Pair Plus Bet
If, before the cards are dealt, you are confident your hand will win with a pair value or higher you can place a side bet which will payout if you do hit a pair or any other higher value hand. This is optional and separate to the 'Ante' bet but pays out using the same principle, the amount you receive is dependant on the odds attached to the specific winning hand. I.e. a flush would pay out more than a pair.
21.co.uk Thinks
Three Card Poker is a fabulous casino game for poker pros and novices alike. It is especially attractive to newer players as it offers simple and steady gameplay with standard payout opportunities indicative of any table game where it is player v house. We are pleased to welcome this top table game into our repertoire. After something a little more fast-paced? Check out our live casino where we recommend you try Live Three Card Poker.
##Online Poker vs Live Poker
Online Poker & Live Poker remain popular among casual players and seasoned veterans alike. If you're looking to find out the differences and benefits of both online and live poker then take a look at our Online Poker vs Live Poker blog post where we weigh up the pros and cons.