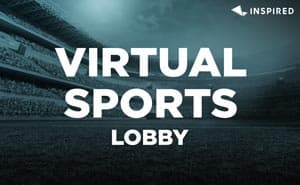 Virtual Sports Lobby
Virtual Sports Betting
Virtual Sports are one of the most popular forms of betting in 2020 thanks to their simplicity and speed. Here at 21.co.uk, you can bet on a wide range of virtual sports 24 hours a day, seven days a week as we have a new event every three minutes which means that we have 10,080 Virtual Sports Betting events in a week and 1,440 in a single day across Football, Horse Racing and Greyhounds. Our Virtual Sports are provided by Inspired who are also a fantastic provider of some of our very best online casino games on 21.co.uk; however, their work on our virtual games is just as good.
What Are Virtual Sports?
Virtual sports are electronic casino games which are broadcasted and available to play alongside live uk sports betting. These sports often have 3D animated visuals, almost like a video game. Online Sportsbook users can bet on virtual sports in the exact same way they would wager on a traditional sports game, and virtual sports share many of markets you would expect to find in real sporting events, such as accumulators, tri-casts, each-way bets and more.
One of the benefits of virtual sports is that they run 24 hours a day, with new events taking place practically every minute. Virtual sports are never called off due to inclement weather conditions or other variables which can affect the running of an event. Some of the most popular virtual sports include the following:
Virtual Sports: Football
When betting on virtual football, punters have access to similar markets as traditional football betting. It's possible to place bets on outright results, half time/full-time winners, the number of goals scored and even the number of yellow cards issued in a game. Fans of virtual sports can watch virtual football action unfold via their online bookmaker of choice, with the game displayed on a 3D rendering of a football pitch.
Virtual Football Betting Examples
Now, to give you an example of what to expect from Virtual Football, we've taken ten games played in a row, with the scores and the odds for the winning team and score. Draw markets are available in our virtuals but to demonstrate the randomness and how the odds work, we'll only add the Home Team, Score and Away Team Odds. The test started with England Vs Germany at 15:16 on the 17th March 2020 and ends with England Vs Poland at 15:43 on the same day.
| Home Team (Odds) | Score (Odds) | Away Team (Odds) |
| --- | --- | --- |
| England (27/20) | 0-2 (12/1) | Germany (37/20) |
| Italy (⅓) | 3-0 (25/4) | Poland (27/4) |
| Holland (11/10) | 1-0 (9/2) | Croatia (47/20) |
| Greece (20/23) | 2-0 (13/2) | Russia (11/4) |
| Portugal (20/23) | 2-0 (13/2) | Czech Republic (11/4) |
| Russia (7/5) | 1-2 (17/2) | Czech Republic (17/10) |
| Sweden (9/4) | 0-3 (20/1) | Italy (23/20) |
| Russia (31/20) | 3-0 (27/1) | France (31/20) |
| Spain (4/7) | 1-0 (23/4) | Sweden (9/2) |
| England (½) | 1-1 (6/1) | Poland (9/2) |
These games are in no way representative of the quality of each team, it is to demonstrate the potential available to players in Virtual Sports.
Virtual Sports: Horse Racing
Virtual horse racing works in much the same way as standard horse racing. In fact, one of the world's largest horse racing meets – the Aintree Grand National – was replaced with a virtual horse race in April 2020 in the wake of the coronavirus pandemic. Sports fans can place a range of bets on virtual horse racing, including race winners, places, tricasts and forecasts. Each virtual horse has its own form, allowing Bettors to gain a bit of insight prior to the race.
Virtual Sports: Greyhound Racing
Virtual greyhound racing is popular among bettors because it almost mirrors the real sport. Prior to the race, online sportsbook users are given the opportunity to place bets, and when the race begins a live tracker will denote all the action in virtual "real-time". Greyhound racing is fast-paced, with races lasting only one lap of the course. Its digital counterpart is no different.
Virtual Sports: Basketball
Inspired Gaming are consistently looking to improve their online gaming experience by adding new and innovative features to their virtual sports. Several of their newest introductions come from sports that are exceedingly popular in America. One of those sports is Basketball. Although still maintaining some popularity in the UK, Basketball is massively popular overseas and here you can analyse some adaptations to the teams you may know and love. Remember that these teams and their players actually have no representation of real-life teams. In our Basketball virtual betting, you can place a bet on the winner of each match, the spread betting, as well as win margins and total points. Of course, you won't get to watch the entire match but just like with our virtual football, you can watch key stages of the game that end up dictating the flow.
Virtual Sports: American Football
Similarly to the addition of Basketball, virtual American Football is a popular American sport that is gradually becoming more popular in the United Kingdom. Both of these are something that you might not find in a virtual format anywhere else, which means that you should definitely check out these sports on 21.co.uk. In this format, betting markets are mirrored for traditional NFL betting. This means that you can bet on the winner of the match, the number of points scored, the spread and much more! You will be able to watch the virtual highlights, which cover the main moments of the match.
Virtual Sports: Motor Racing
In what is our favourite of these virtual betting markets, our players can bet on races featuring a number of virtual racers in each event. Unfortunately, you won't be able to find Lewis Hamilton and Max Verstappen going head-to-head in these races but there is a lot for our players to enjoy. You can place bets on the race winner, each way bets and even tricasts if you're willing to try it out. However, remember that these races are highly unpredictable due to the random number generator involved, so picking the top three correctly is practically harder than mastering turn 10 in Bahrain.
Virtual Sports Betting Markets
Now, there are three types of Virtual Sports that our players can bet on at 21.co.uk: Football, Greyhounds and Horse Racing. There are multiple ways to bet on all sports, most of which you can find in all of our betting markets for the sports in real life. Here is a list of the markets available for each of our Virtual Sports.
| Virtual Football Markets | Virtual Greyhound Markets | Virtual Horse Racing Markets |
| --- | --- | --- |
| MoneyLine FT | Winner | Winner |
| Correct Score | To Place 1st or 2nd | To Place 1st or 2nd |
| Total Goals | Forecast | Forecast |
| Double Chance | Tricast | Tricast |
| First Team to Score | To Finish Second | To finish Second |
| Half Time/ Full Time | To Finish Third | To finish Third |
Virtual Sports: Frequently Asked Questions
Q. Are Virtual Sports Fixed?
A simple answer is: No, Virtual Sports are not fixed. If they were, they would not be regulated by the Gambling Commission, in-fact Virtual Sports are one of the most regulated areas of betting due to the technology behind them. An RNG (Random Number Generator) creates the odds by informing players that a certain team has the advantage. A simple way to think of it is, your betting on a number between 1 and 100 and your options are: between 1 and 45, between 46 and 70 and 71 to 100. Where does the advantage lie?
Q, How do Virtual Sports Work?
Virtual Sports are sports that contain fixed odds for games or events and utilise a random number generator (RNG) to ultimately decide the outcome. All players' schedules are the same and each player views the same game. The outcomes can not be influenced by 21.co.uk in any way. Players can only place bets before a match has begun.
Q. How do you bet on Virtual Football?
Betting on Virtual Football is incredibly easy. Players simply open the Virtual Sports page, click on the Football tab and select the game that they wish to bet on. They will then see the markets that are available such as Winner, Correct Score, Total Goals and under/over 2.5. Most of the markets that you find in real-life football are available in Virtual Sports, except player to score bets because the players are in-fact nameless.
Q. Are Virtual Sports Fair?
Virtual sports are entirely digital, which means there are fewer factors to analyse – some think this could be unfair, whereas others think that the fact that outcomes are determined by a computer makes things easier to predict.
Some detractors of virtual sports have likened betting on digital sports events to taking a spin on a fixed-odds slot machine. In many respects, they are correct. Betting on virtual sports is not quite the same as placing a bet on the real thing – however, in the absence of real sporting events, it can be an entertaining way for sports fans to enjoy some entertainment. Ultimately, if you are placing bets on reputable betting sites like 21.co.uk, which is fully licensed and regulated by the UK Gambling Commission, you can expect fairness and transparency.
As with any casino game, virtual sports are games of chance. However, the range of betting options available in each match or game mean that you can find a bet to meet the risk to potential win ratio that you're comfortable with.
Q. What Do I need to know about Virtual Sports before I bet?
The best thing about betting on Virtual Sports is that you don't need to worry about your knowledge of a sport. Unlike, live betting where players will likely need to know about a sport before they bet, Virtual Sports are completely random and the betting odds are representative of the algorithm in place for the event.
Q. What is the difference between Virtual Sports and ESports?
There are many differences between Virtual Sports and ESports, Virtual Sports is randomized games played by the computer while ESports are games played by real people and clans in a competitive gaming environment such as a league or a tournament. These games include the likes of FIFA, League of Legends, Counter Strike and more.