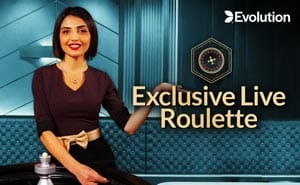 Exclusive Live Roulette
About Exclusive Live Roulette
From the provider, Evolution, this Exclusive Live Roulette game has been created with the classical European roulette wheel and table, featuring all the relevant betting options associated with that version of roulette.
The game has included an exclusive studio design that makes for a unique setting. Live dealers can also be found, allowing you to interact with the host and other players taking part at the roulette table so that you can experience every live event together.
How to play Exclusive Live Roulette
Before you start playing the Exclusive Live Roulette game, you will need to select the bet amount that you would like to use for your betting options.
Once your bet amount has been selected, you can pick the bets you want to place for the coming round. This can only be done during the betting period, which the dealer will close after the time period has expired.
As this is a European roulette-inspired game, there is only one zero pocket on the wheel, providing 37 pockets to bet on. The betting options available at the table will be associated with the pockets included in the European game.
After the betting window has closed, the live dealer will set the ball spinning around the roulette wheel. Eventually, the ball will stop and rest in a pocket to determine if any bets on the table are winners.
Exclusive Live Roulette Special Features
In this Exclusive Live Roulette game, you can find several exclusive features that make this roulette game unique.
Exclusive Studio
To capture the theme of 21.co.uk, this live roulette game has been designed with an exclusive studio setting, making for a unique gameplay experience.
Live Dealer
This Exclusive Live Roulette game has included the use of 24/7 Live Dealers. These dealers provide a live gaming experience, with the option to interact with the dealers through the chat functionality.
21.co.uk Review of Exclusive Live Roulette
With the addition of live dealers, this exclusive version of European roulette creates a similar experience to that in physical casinos, allowing you to interact with the dealer and any of the other players sitting at the table.
As an exclusive game, the game does have an original 21.co.uk feel to it, with the studio's design.
For those who prefer European roulette, you will find all the classical betting types on the roulette table, as well as the 37-pocket wheel that offers a lower house edge to American versions.