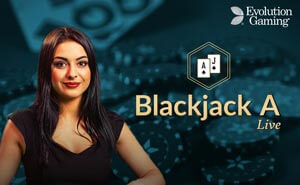 Live Blackjack A EVO
Everything is developed to be as you would expect from a physical casino and is available to 21.co.uk players in perfectly optimised format, providing a great casino experience that brings a true casino game right to players fingertips. Complete with a true Blackjack table, live professional dealers and a simple betting process, 21.co.uk players can join the table and bet with ease in an innovative online blackjack environment.
Evolution Gaming Live Blackjack at 21.co.uk
Bring the feeling of a land-based casino directly to the comfort of your own home, or on the go, whichever you prefer you can enjoy with ease thanks to Evolution Gaming Live Blackjack. The quality of online blackjack is mastered to rival the real deal, complete with live dealers that are readily available to interact and welcome players to their seats. This Live Blackjack experience is streamed in superb HD quality and optimised to be efficient as possible across all desktop, tablet and mobile devices. So our community of 21 casino players can enjoy a game of Live Blackjack on which device they prefer, as Evolution will adjust the game display to suit your current streaming preferences. Just as you would expect in a physical casino, the rules, betting limits and how the game of Live Blackjack is played are almost identical, making it simple for casino players to adapt and enjoy this casino experience here at 21.co.uk. Take one of the seven available seats and play alongside other real participants in a traditional game of live blackjack, whilst you try your luck at dealing as close to 21 as possible.
Live Blackjack Objectives
The aim of the game in Live Blackjack, is to land a higher card count than the dealer's hand, without going over the limit of 21. The best possible hand players can land is Blackjack, which is the name given to the hand where the first two cards dealt equate to the sum of 21. This classic game of Live Blackjack is played with 8 decks, and the dealer always stands on 17. Players have the opportunity to double down on any 2 initial cards, but if they decide to split, this feature isn't available. Only one split will be allowed if the cards are of equal value and only one split per hand is permitted. Insurance can be offered if the dealer is dealt an ace and the insurance feature will pay 2 to 1. If players are lucky enough to deal Blackjack, this pays 3 to 2.
Live Blackjack Rules
In this game of Live Blackjack, the game is hosted by a live professional dealer, that allows 7 players to be seated around the table at the same time. This live casino game is played with the standard 52-card decks and common cards 2-10 are worth their face value. Whereas Jacks, Queens and Kings each represent 10. Aces are worth either 1, or 11, whichever is more favourable to reaching the ultimate goal of 21. Players are allocated a betting time in which players are free to set their betting amounts. Once that time has expired, the dealer will deal one card face up to each player present around the table. The dealer will then deal a second card face up to each player, continuing clockwise, but the dealers second card is dealt face down in order to not reveal their total card value. The value of your initial hand is displayed next to your cards on the table.
How to Play Live Blackjack
Chips The chips, located at the bottom of the gameplay can be used to place bets on the Blackjack table. Simply select the chips and bring them to a table position to place a bet of that value. Players can also keep check of their remaining balance and total bet amounts, as these are located at the bottom of the gameplay.
Insurance If the dealer's card facing upwards is an Ace, then players are given the option to purchase insurance.
Double Down When the dealer hasn't achieved Blackjack after the first deal of two cards, players can improve the value of their hands by accepting more cards from the dealer. If players don't receive 21, they have the opportunity to double down. This will double players bets and bring an additional card to the hand.
Hit & Stand Players can choose to hit, which means they will be dealt an additional card. This feature can be used more than once and players can receive a number of additional cards before they choose to stand. Which is the term that relates to players choosing to stick with their card values and are satisfied with the value of their hands.
Split If both of the cards are of equal value in this game of Live Blackjack, players can decide to split the pair and make two separate hands. Each of these hands will have a separate bet equal to players main bet. After a second card is dealt to both hands, players also have the opportunity to hit until they are satisfied with both amounts.
Outcome If players hand exceeds the value of 21, then players will go bust and lose their initial bet amounts on that particular hand. Once all players around the table have revealed their cards and taken their turns, the dealer will then hit a hand of 16 or less. If your hand is closer to the dealers, you win the round. However, if your hand is the same value as the dealers, the game will end in a push and your bet will be returned.
Deal Now Hit the deal now button once you have placed your initial bets. This will finalize your bet amounts and make your bet visible to other players sitting around the table.
Sound The sound button located at the top right of the gameplay lets players toggle between either muting or allowing sound from the gameplay.
Settings The cog button, located adjacent to the sound icon allows players to bring up a settings menu. Here they will find options to adjust their experience, through general, video, sound and bet behind settings.
Help The question mark button will bring up the help category. Here 21 players will find details regarding every aspect of Live Blackjack. Including how to play, game rules, return to player values and more.
Live Blackjack Game Features
Side Bets
This Live Blackjack experience offers players the opportunity to place side bets in combination with a main Blackjack bet. This gives players an extra opportunity to win on any side bet, even if you win or lose on your Blackjack bet.
Perfect Pairs
The perfect pairs bets give players the opportunity to win if their first two cards are an identical pair. There are three different types of perfect pairs, each with a different payout:
Perfect Pair: Same suit. EG: two Queens. Coloured Pair: Different suits of the same colour. EG: two red diamonds. Mixed Pair: Different suits that are also of a different colour. EG: 8 of spades and the 8 of clubs.
Bet Behind
The bet behind feature allows 21 live casino players to bet on a hand that was dealt to another player sitting at the same table. If you choose to bet behind their hand, you will share the outcome of their hand. Players can do this by hovering the cursor over the Bet Behind spots to view the number of players who have also placed a bet behind bet and also view the sum of their combined wagers. If you're not interested in this feature, players have the option to allow/disallow players to bet behind them, by toggling this feature in the settings menu.
21.co.uk Thinks…
Live Blackjack is a great addition to 21's online casino offering. If online casino players enjoy a traditional game of Blackjack, that mimics a true to life casino environment, then we're sure this casino game will be a top hit amongst 21 players. Looking for more live casino games then take a seat at our Live Roulette table.