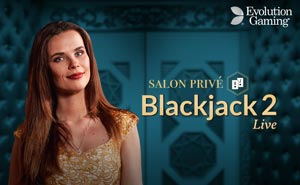 Salon Privé Blackjack B
A Private Blackjack Game
Salon Privé Blackjack is a truly exclusive experience. Our studio features just three Salon Privé tables offering higher limits and maximum player control. This game features one-to-one play where you control the speed of the game, the shuffle, and even the dealer who hosts your game.
Note that Salon Privé Blackjack is not open to everyone. It is exclusively offered to VIP high rollers who meet minimum bankroll requirements. If you qualify to play, you are in for a truly incredible experience. You will enjoy your very own online blackjack game hosted by a professionally trained dealer who specialises in VIP play.
You will also enjoy the benefit of an on-duty VIP Room Manager tasked with the responsibility of making sure all Salon Privé players are being taken care of. While you are playing blackjack, other Salon Privé players may be playing roulette or baccarat.
HD Video and Sound
The Salon Privé environment is made possible thanks to state-of-the-art HD video and sound and the latest online gambling technologies. Our new casino games combine cutting-edge software with live internet streaming to bring you an experience like no other.
Crystal-clear streaming means you will never miss a single detail during play. You will interact directly with your dealer as well, making for a truly one-on-one experience. And of course, you will see all the sights and hear all the sounds you normally find with live play.
With Salon Privé Blackjack, you are the number one priority. It's your dealer's responsibility to make sure you are completely satisfied with your experience. And make no mistake, he or she will.
Play Classic Blackjack Live
While Salon Privé Blackjack does feature higher betting limits and minimum bankroll requirements, the game itself is based on classic blackjack rules. As a VIP player, we trust you are already familiar with those rules. You should have no problem pulling up a virtual chair and getting started.
Computer-generated graphics appearing at the bottom of your screen are what enable gameplay. Ante up by dragging and dropping chips onto the blackjack table. Instruct your dealer to deal and off you go. You can hit, stand, double down, or split as you see fit. When you are done playing your hand, the dealer moves for the house. Note that the dealer must draw to 16 and stand at 17.
Live Blackjack Your Way
Salon Privé Blackjack's three exclusive tables each offer a different minimum bet. Play at all three or choose just one. It is entirely up to you. And don't forget about the Perfect Pairs and 21+3 side bets. They offer you additional opportunities to win with every hand.
21.co.uk is thrilled to offer you Salon Privé Blackjack in our Live Casino collection. It is Live Blackjack played your way from start to finish.