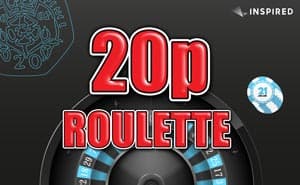 20p Roulette
About 20p Roulette
If private, personally paced and immersive gameplay is what you're seeking when you play online roulette then you're bound to enjoy 20p Roulette from Inspired Gaming. Gameplay is fantastically simplified highlighting the best aspects of playing roulette. Roulette is a perfect choice for 21.co.uk players looking to get started in the world of casino table games. Don't forget - you can also play a range of live casino games if you're ready to go face to face with a professional dealer.
How To Play 20p Roulette
Stake
To place your bets when playing a round of 20p Roulette all you need to do is click on the number and/or area(s) of the virtual betting grid that you would like to wager on. To up the value of any of the bets you have placed, simply click on the area again and the value of the bet will increase automatically - do this until you reach an amount you're happy to play with. It's worth noting that the minimum bet you can place when playing 20p Roulette is £0.20.
Play
Once you're fully happy with the bets you have placed and you're ready to play 20p Roulette, hit the Bet button to start the game. The roulette wheel will appear on the left hand of the game screen and will spin to reveal the winning number. Any successful bets you have placed will be indicated and paid out in full once the wheel has stopped spinning. If you would like to place the same bets again, you can use the 'Repeat Bet' button to set them and play another round.
This game is played using the European wheel which only has one zero segment on the wheel. Playing the European game does offer better odds when compared to the American version of the game, which has two zero segments.
21.co.uk Review - 20p Roulette
20p Roulette provides a low-cost way to dip your toes in the world of casino. Perfect for any player learning the ropes but also a great choice if you're just looking to play Roulette. We also have a great guide on Roulette Strategies that new players may find useful.
If you're looking for a shot at winning big then the live casino game, Lightning Roulette, offers bonuses of up to 500x your stake.
More online roulette games
If you're looking for an alternative choice to 20p roulette, you could also try Roulette X2. This virtual roulette game uses traditional rules, with an added bonus that allows players to potentially win double their payout.