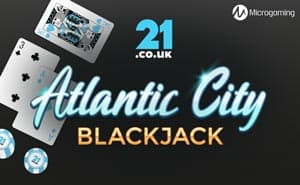 atlantic city blackjack
About Atlantic City Blackjack
Standing as one of the most recognisable and probably the best casino games in the world, it's no surprise that online blackjack is one of the most popular games we host here at 21.co.uk. We harbour a huge range of both live casino blackjack games and private table games and we think Atlantic City Blackjack is one of the best in our collection, it offers players a brilliantly engaging, private online blackjack experience that welcomes players of all abilities - whether you want an environment to hone in your skills or simply feel like playing a few solo hands, this table is perfect for you.
How To Play Atlantic City Blackjack
Learning how to play blackjack is fairly simple, the aim of the game is to form a hand that beats the dealer without the total sum of your cards exceeding the value of 21.
Stake
All casino games require players to set a stake before the game begins. With your desired budget in mind, select the chip(s) with the most suitable value for you and place them in the respective betting box to place your bet.
Deal
Once you understand the aim of the game and you're happy with your wager, you can select the deal option. This will deal both yourself and the dealer a 2 card hand, with only one of the dealer's cards being visible.
Hit or Stand
Once the cards have been dealt, you're presented with a number of options to choose from - the first two you should get to grips with are Hit and Stand, judging by your hand and the dealer's visible card you must decide which one to opt for.
Hit: - opt to Hit if you think your hand is weaker than the dealers and could yield a higher value than the dealers if you received an additional card.
Stand: - you should choose to stand if you think your hand is already sufficient enough to beat the dealer as it stands.
There are also a couple of additional bets available for players to make when playing Atlantic City Blackjack which, when played correctly, can lead players to even bigger payouts, these are Doubling Down and Pair Splitting - to learn more about these in detail we highly suggest you check out our casino blog, where you'll find everything you need to know about blackjack side bets and how to play them correctly.