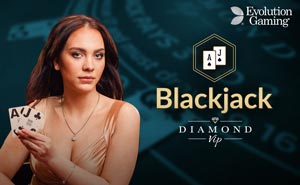 Blackjack Diamond VIP
About Live Blackjack Diamond VIP
Live Blackjack Diamond VIP is an online casino table game that is presented by Evolution Gaming. VIP players should love this game, which uses the classic rules of Blackjack mixed with premium features such as the high betting limits. The betting limits for Live Blackjack Diamond VIP range from between £1,000 and £10,000, so this is a game that is perfect for the high rollers amongst you.
This Live Casino game will provide you with a real-life casino feel, with the action streamed live in HD from a studio. The live dealer will deal the cards just as quickly as they would in a land-based casino, so you can play the game at a good pace. There are 7 seats available at the table, so if your balance is high enough then you can click to claim a seat at the Live Blackjack Diamond VIP table.
Rules Of Live Blackjack Diamond VIP
The rules of Live Blackjack Diamond VIP are the same as the basic rules of Blackjack known around the world. The objective of the game is to have a hand of cards that is higher than the dealer's hand without exceeding the value of 21. When your hand has a value of 21, it is known as Blackjack. In this game, you will only ever compete against the dealer, so it does not matter what the other players on the table are doing.
You will be dealt an initial 2 cards and you can then decide what your next move is. Either Hit, Stand, Split or Double, it will entirely be up to you. In Live Blackjack Diamond VIP, the value of the cards is as follows:
Numbered cards between 2 and 10 are worth their face value. King, Queen and Jack are all worth 10. Aces can either be 1 or 11.
As well as the standard bets, side bets such as Perfect Pairs and 21+3 can also be placed in Live Blackjack Diamond VIP which gives you more options in terms of what bets you can place.
Live Blackjack Diamond VIP Buttons
Sit Here Open seats at the table will be denoted by a green 'Sit Here' logo. If you wish to take that seat and your balance is high enough, simply click the button.
Bet Use the betting chips to decide how much you are looking to wager on the next round and place them on the relevant section of the table. The minimum bet in Live Blackjack Diamond VIP is £1,000, while the maximum is £10,000. The traffic lights in the game show when you can place a bet. If it's green you can bet, yellow means betting time is nearly over and red means no more bets are being taken for that round.
Hit Once your bet has been placed, you will be dealt two cards. If you wish to be dealt another card to increase the value of your hand, click 'Hit'.
Stand If you would like to stay with the hand of cards that you have, click the 'Stand' button.
Double Down By clicking 'Double Down', you can double your bet and receive another card. Your extra card limit will be set at one if you decide to click 'Double Down'.
Split If you are dealt a matching pair with your first two cards, the option will be there to split your pair into two separate hands.
Help For a full roundup of all the Live Blackjack Diamond VIP rules, you can click on the ? icon. Details on side bets and specific rules can be found here.
Chat You can chat with the dealer and other players in the game through the speech bubbles icon.
History Click on the clock icon to bring up your full game history, such as previous bets placed and any wins and losses.
21.co.uk Thinks…
Live Blackjack Diamond VIP is a terrific variation on the classic table game that has been so popular with casino players for a number of years. The high betting limits aspect of this particular game gives it an edge for the high rollers amongst you. This variation will certainly not be for everyone, as you need to have a high balance to enter the game, but for the VIP's this game will provide a premium Blackjack experience that could only be replicated in some of the world's finest land-based casinos.