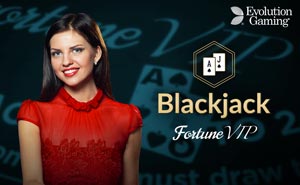 Blackjack Fortune VIP
About Fortune VIP Live Blackjack
Fortune VIP Live Blackjack is an option for high-rollers looking to step up their online blackjack experience. This is an exclusive live casino environment complete with an opulent Asian design and you've got the ultimate online blackjack game.
Fortune VIP Live Blackjack follows the same basic rules that are universal to the majority of blackjack games. The aim is to achieve a hand that is closer to 21 than the dealer's, without going 'bust'. You'll be dealt two cards initially, and from there, it's up to you what happens next. Hit, stand, split or double - the choice is yours.
All of our live blackjack top casino games are streamed to your chosen device in HD quality and feature a live dealer. You'll play with real cards and can interact with others at your table via the built-in chat function. There's also popular side bets for players looking for some side action and a history feature to keep you up to date with previous rounds.
Fortune VIP Live Blackjack Buttons
Sit Here When a seat is vacant, a green Sit Here button will be visible. Press this button to take a seat at the Fortune VIP Live Blackjack table.
Bet Select a chip to place a bet of that value in Fortune VIP Live Blackjack. You can then place it on your designated betting area on the blackjack table.
Hit If you'd like to be dealt another card, press the Hit button.
Stand Select the Stand button if you don't want any more cards and are happy to proceed with your current hand.
Double Down The Double Down option allows you to double your bet in exchange for one more card. You cannot receive more than one if you have pressed the Double Down button.
Split This button is available when you are dealt a matching pair. Use it if you would like to split your pair into two separate hands.
Sound Click on the speaker icon to mute and unmute game sound.
Help For more information about Fortune VIP Live Blackjack, such as game rules and help pages, click on the (?) icon.
Chat To reveal the chat window, select the button featuring two speech marks.
History The clock icon will reveal game history.
Fortune VIP Live Blackjack Special Features
Live Chat You can use the chat window to talk to your live dealer and other players at the table for a more social experience. Your dealer will interact with you throughout your time at the blackjack table.
Game History Fortune VIP Live Blackjack contains a game history feature, meaning you can view the outcomes of all previous rounds you've played.
Blackjack Side Bets In Fortune VIP Live Blackjack, you can place two of the most popular blackjack side bets - 21+3 and Perfect Pairs. These are additional wagers involving the first two cards dealt to you and in the case of the former, the dealer's up-card. There are various types of 21+3 and Perfect Pairs side bets which all have varying odds.
21.co.uk Thinks…
Fortune VIP Live Blackjack is a premium online blackjack product from the talented creators at Evolution Gaming. High betting limits make this game a great choice for high rollers with plenty of blackjack experience behind them. The environment in which the game is played certainly adds a little something extra, making the table feel a little more lavish than your average blackjack game. All of the features we've come to know and love can of course be found here too, from side bets to live chat, meaning this game has a lot to offer blackjack players. Looking for more premium blackjack action? Check out Blackjack Grand VIP and Blackjack Diamond VIP. Feel like taking the roulette wheel out for a spin? Live Roulette is the place to be.