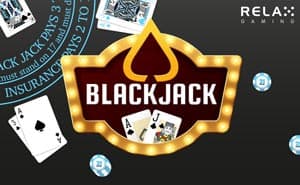 Relax - Blackjack
About Blackjack
Our casino online is awash with brilliant blackjack games for our players to play, from a wide variety of live online blackjack rooms for you to enter to our very own 21.co.uk Live Blackjack table, available for you to pull up a pew 24/7. Relax Gaming brings our 21.co.uk players a fantastically user-friendly version of online blackjack, scaling this classic casino game back to its simplest form making it perfect for our players who are taking their first steps into the word of table games.
How To Play Blackjack
Contrary to popular belief, the aim of Blackjack is to beat the dealer by forming a hand higher than theirs without exceeding the value of 21, as opposed to forming a hand as close to 21 as possible. The aim of the game remains the same in Relax Gaming's Blackjack.
Bet
Determine the amount you'd like to wager for each hand by selecting a chip from the left-hand side of the game interface and placing it into your respective betting box.
Deal
Once you're happy with your bet, hit the 'Deal' button to begin the hand and receive your cards. You will then be given the option to 'Stand' or 'Hit'. Choose to 'Stand' if you're happy with the value of the cards you have been dealt, but if not, select 'Hit'. Once you choose to stand, the dealer will reveal their turned card and continue to hit until they reach 17 or over or bust.
There are also additional side bets that are made available for players to make throughout the game. To learn more about blackjack side bets and how to play blackjack, check out the 21.co.uk definitive guides over on our casino blog.
Blackjack Special Features
Best Bet Indicator
21.co.uk players have a little extra assistance when it comes to knowing what moves to make when playing blackjack with the Best Bet Indicator. Once the hands have been dealt, the best bet you could arguably make will be underlined by this feature - it's your choice whether to follow it or not.
21.co.uk Review
Blackjack isn't a casino game we're short of here at 21.co.uk but we're always in the market for games that help bridge the gap into table games for our less seasoned players. Relax Gaming brings an online blackjack game that makes a brilliant starting point, stripping this well-loved casino game back to simplicity whilst maintaining a great level of engagement to keep our players entertained.