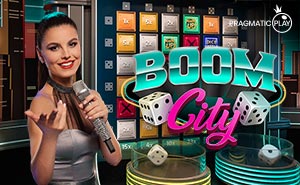 Boom City
About Boom City
Set in a stylish studio that features an illustrative cityscape backdrop, Boom City seeks to redefine the limits of dice gaming. Dice-based games like Sicbo Deluxe lean on preexisting gameplay, but Boom City tries to do something entirely new via its Power Up, Dice Battle, Boom or Bust, and Lucky Drop features.
Boom City's creator, Pragmatic Play, is best known as the interactive gaming sector's most prolific developer of reels-spinning titles. But it has branched off into the world of live casino. Now, with unique products like Boom City, it seeks to take over this sphere.
At the core of this action-packed Pragmatic Play creation are its Power-Ups. The gameplay here is driven by two sizable dice, whose outcomes decide if this game will reward a cash prize, a bonus game, a win booster, or an instant loss via its thirty-six-field board on which players bet.
How To Play Boom City
How to Set Your Stake
The bet selector in Boom City is available in the central bottom part of the screen, below the six presented wagering choices and the 6x6 grid. Click on one of the eight different-coloured chips to change your wager size before the round starts.
How to Play Boom City
There is a few-second wait in between game rounds, during which players can lay down their wagers. Once they do so, two physical dice tumble on a vibrating surface, and when they stop rolling, their outcomes determine the hit coordinates on the 6x6 grid. The goal is to avoid the X square, which is the Bust spot, causing players to lose their stake. The other ones either award an in-game multiplier or a bonus feature, and each grid position randomly reshuffles at the start of every round.
Boom City Bonus Features
Boom City has four bonus features. Power Ups transform X spots into Bronze multiplier squares and boosts cash prize values. Dice Battle lets players pick a side from Blue or Gold, and engage in a three-roll battle. The side accumulating the better total wins their accumulated multiplier. Then comes the Lucky Drop feature that utilises a novel 6x6 grid where players select a column, and a die is rolled six times.
Whenever a roll outcome matches a selected column, this boosts the multiplier prize. Lastly, we have the Boom or Bust feature, which also implements a new grid setup with multiple levels, each featuring bust icons and multipliers. Naturally, landing a bust icon ends this mode.
21.co.uk Review Of Boom City
Boom City looks sophisticated and plays with great gameplay. It is a new twist on how to use dice in live casino. For most individuals who decide to try this game show-inspired product, the primary allure of its gameplay lies in its Power Up feature that can keep rounds going.
Admittedly, Boom City is a bit more complex than your typical live dealer choice, such as One Blackjack Live or Grand Baccarat Live.