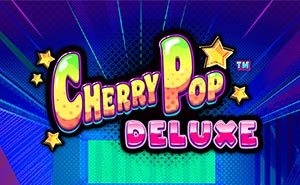 Cherry Pop Deluxe
About CherryPop Deluxe
Taking on a unique pop-art design with varying special features, AvatarUX has also maintained some of the classic symbols that can be found in traditional slot games. The addition of illuminating colours and animations completes the energetic feel to the online slot machine.
On the side of additional features, play CherryPop Deluxe to trigger free spins, a PopWins mechanic and multipliers.
How to play the CherryPop Deluxe slot
Info
In the bottom right hand corner of the screen, you can find the menu button. Clicking this will open the specific rules of the game, as well as the paytable for all the different payout values of winning symbols.
Spin
Before you can spin the reels, you will need to set your bet amount. After selecting an amount that you are happy with, you can click the spin button to place the bet and rotate the reels.
Max Bet
In CherryPop Deluxe, you can select a stake between the minimum of £0.20 and a maximum bet of £40.00 per spin.
Special features in CherryPop Deluxe
AvatarUX have included various unique game features in the CherryPop Deluxe slot, including; free spins, PopWins and multipliers.
Free Spins Feature
To trigger the bonus free spins mode, all five reels will need to expand to six places high. At the beginning of the free spins, there is a choice for players to exchange the free spins for a chance to return an improved free spin bonus.
There is a gold reward on the wheel, providing up to 12 free spins. The golden free spins round can also increase the height of the reels up nine high, providing up to 118,098 ways to win.
PopWins
CherryPop Deluxe slot features PopWins, meaning winning combinations will result in the removed symbols being replaced by two new symbols. This offers another chance for winning combinations to land.
Multipliers
Throughout the bonus game, a progressive win multiplier is used to improve payouts. This can be increased by 1x for each win. If the reels increase to nine high in the golden free spins round, the multiplier will then increase by 4x for every winning combination that is achieved.
CherryPop Deluxe FAQs
How many paylines are there in CherryPop Deluxe?
In the base game, there are up to 243 paylines. During the bonus free spins round, there is the potential for the number of paylines to increase up to 118,098.
What is the max win in CherryPop Deluxe?
With the added bonuses and multipliers, there is a maximum win of up to 20,000 the initial stake.
What other slots does this provider have?
If you're looking for alternative slots from AvatarUX, you could try LolliPop or Papaya Pop. As this is an AvatarUX slot, both use the PopWins to offer chances at consecutive winning combinations.