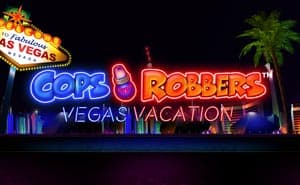 Cops 'n' Robbers: Vegas Vacation
About Cops 'n' Robbers: Vegas Vacation Slot
Cops 'n' Robbers: Vegas Vacation slot is a casino slot game played on five reels, three rows and twenty paylines. Set against a Vegas-inspired backdrop, you'll see the iconic 'Welcome to Las Vegas' sign as well as palm trees and neon lights. Cops 'n' Robbers: Vegas Vacation is the third installment in Novomatic's Cops 'n' Robbers franchise, which follows a crook called Bert and his four-legged companion Bonzo as they try to pull of some epic heists and outsmart the cops.
Symbols include dice, road signs and the characters themselves, with Bert offering the highest payout. He's also a Wild symbol, which means he can substitute for other symbols on the reels to form winning combinations. There's a variety of bonus symbols which can activate the corresponding bonus feature if landed in a triggering combination.
Cops 'n' Robbers: Vegas Vacation is brimming with bonuses which will aid you on your slot swindle. Four reel modifiers may be randomly triggered at any time throughout gameplay, causing mayhem on the reels with explosions, Wilds, and sliding symbols. The action doesn't stop there, either, as there's four different bonus rounds available to trigger. Shine a spotlight on the reels in the Spotlight Wilds Bonus and illuminate some special symbols, and get ready to make the ultimate getaway and collect cash prizes as you progress in the On the Run Bonus.
Play Cops 'n' Robbers: Vegas Vacation slot on mobile, desktop or tablet and prepare to raid the reels across multiple devices.
How to Play Cops 'n' Robbers: Vegas Vacation Slot
You'll find the main buttons needed to play Cops 'n' Robbers: Vegas Vacation just below the reels, as well as display windows showing your total bet, credit and last win.
Paytable Select the Paytable button to reveal the Cops 'n' Robbers: Vegas Vacation paytable, which displays symbol values.
More Info The More Info button appears when the paytable is opened. From here you can read about the game's bonus features, rules and paylines.
Bet Use the (+) and (-) buttons on either side of the Bet display panel to increase and decrease your total bet. Ensure that you are satisfied with this value before playing Cops 'n' Robbers: Vegas Vacation.
Collect This button will only be visible when a winning combination is landed on the reels. Press this button to collect your winnings and continue standard play.
Start When you are ready to play Cops 'n' Robbers: Vegas Vacation, select the Start button. The reels will spin for a single round and the current bet will be submitted.
Cops 'n' Robbers: Vegas Vacation Special Features
Reel Modifiers
Reel modifiers in Cops 'n' Robbers: Vegas Vacation are triggered at random.
Dynamite Win Reel Modifier If Bert appears on screen with his dynamite then take cover - he's about to blow up the reels. This can be triggered randomly after any losing spin, awarding either a payout or a bonus. He may even do it more than once, and if he does, wins will be totaled.
Bert's Wild Giveaway Reel Modifier Bert may decide to throw additional Wilds into the mix by adding them to reel 5. These Wilds will then slide left after each round. Bert will continue to add Wilds until he's chased off.
Reel Raider Reel Modifier Watch out as Bert swings onto the screen, sliding copies of reel 1 across the interface. Any resulting wins will then be credited.
Bert's Going Wild Reel Modifier During a reel spin, Bert may dash behind the reels, adding at least one Wild into the mix.
Bonus Rounds
Bonus rounds in Cops 'n' Robbers: Vegas Vacation are triggered when two generic Bonus symbols are landed on reels 1 and 2, alongside the corresponding Bonus symbol on reel 5. There are four bonus rounds and therefore four unique bonus symbols.
Find Bonzo a Bone Bonus Your canine accomplice Bonzo will dig up cash prizes, or even a bonus upgrade which will award a higher paying bonus round.
Spotlight Wilds Bonus Spotlights will illuminate symbol positions on the reels, adding one or more Wilds for more chances to win. You'll then be given five Free Spins, which could land you some cash prizes, more Free Spins or a bonus upgrade. If you claim another bonus, any current winnings will be retained but if there are Free Spins remaining, these will be cancelled.
On the Run Bonus The aim in this bonus is to make your way around the board and then the Golden Trail. Bert will roll the dice which determine how many places you can move forward. He'll collect cash prizes as he goes, but if you land on an arrow, you can progress to the Golden Trail. The Golden Trail offers unlimited dice rolls until Bert lands on an exit arrow. Bonzo may spin the Vegas reel which could award award additional bonuses and enhancements.
Additional bonuses may be:
Add Again: Adds prize twice Get Ahead: Bert rolls the dice again Nice Dice: Rolls both dice and multiplies your stake by the total Super Dice: Rolls both dice and multiplied your stake by the number generated Golden Trail: Moves Bert to the Golden Trail Bonus: You'll be upgraded to the Daylight Robberies Bonus
Keep an eye out for Sergeant Bell - if he catches Bert, he'll be sent to an ID parade.
Daylight Robberies Bonus This bonus awards unlimited Free Spins whilst Bert and and Bonzo are out on the rob. Bonzo's Bouncing Wilds will move from reel to reel on every spin, and when they appear in a winning combination, the resulting payout will be doubled. After each successful robbery, more Bouncing Wilds will be added to the reels. Your task is to rob the casino to potentially win 1000x your total bet, plus your bonus winnings thus far.
You'll notice that when Cop and Robber symbols land on reels 1 and 5, the cops and robbers below the reels will be moved. If the robbers are caught, Bert will go into an ID parade.
21.co.uk Review Of Cops n Robbers Vegas Vacation
We're pleased to welcome Novomatic's Cops 'n' Robbers franchise to one of the top online casino provider, with Cops 'n' Robbers: Vegas Vacation. There's a cool game interface, engaging plot and numerous bonus features to be enjoyed here, with the highlight being the Daylight Robberies Bonus. If you're looking for more slots by Novomatic, take a look at Book of Ra Deluxe.