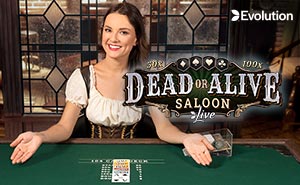 Dead or Alive Saloon
About Dead or Alive Saloon
Taking Live Casino to the Wild West, the Dead or Alive Saloon card game includes both special features and an interactive gameplay experience where players can engage with the dealer and other players.
This live card game utilises a deck of 52 cards, where half the deck is compiled of multiplier and special cards.
How to play Dead or Alive Saloon
To achieve a win in the Dead or Alive Saloon game, players aim to predict which card will be drawn by the dealer.
When entering the game, players will notice a range of betting options that are located below the playing table. Included within the options is the choice to select specific cards, suits or number values.
After the betting window has closed, the live dealer will draw the next card to reveal the outcome of the round.
There is also the potential for wins to be boosted if players land bonus cards from the special 52-card deck that is used in the game.
Dead or Alive Saloon Special Features
Bonus Multiplier Cards
From the 52-card deck, there is a range of multiplier cards that can be used to potentially boost playouts. Included within the deck are; double-cards, 20x, 30x, 50x and 100x multiplier cards.
Double cards have the potential to double your initial payout, whilst the other multiplier cards can boost the win value by their respective multiplier value.
Bounty Hunt Event
Dead or Alive Saloon features the bonus Bounty Hunt Event round, which is triggered by drawing the Bounty card from the deck.
Throughout the bonus round, players will be given three bounty targets, each with a hidden multiplier. Select one of the three options to reveal the value that can be added to a potential win.
21.co.uk Review of Dead or Alive Saloon
For both new and experienced players of live casino games, Dead or Alive Saloon is one of the most straightforward choices to play.
The Wild West theme, combined with the special bonus features, makes for a unique gameplay experience that can provide potential wins of up to 100x the stake.
Achieving a win does provide players with a potential default win of 20x the stake, with any bonus multipliers being added to the initial boost.