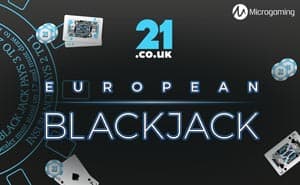 European Blackjack
About European Blackjack
Blackjack is one of the most popular card games we harbour in our online casino collection, where we house over 20 different online blackjack games for our players to choose from in our live casino. However, we understand that our live blackjack tables can be a little daunting for those who are new to playing online blackjack, so we're always looking for something to help bridge that gap and introduce our newer players to the blackjack tables - European Blackjack by Microgaming fits this mould perfectly.
This computer-generated addition offers our online blackjack novices a perfectly playable level of gameplay in a private environment, so you can hone those skills as much as you need in a low stakes game before you take your seat amongst the high-rollers.
How To Play European Blackjack
The aim when playing European Blackjack remains the same as all other live and online blackjack games, to hold a hand higher than the dealer without the value exceeding the total of 21.
Stake
To set your stake in each betting round, use the (+) and (-) to select a chip value that is best suited to your bankroll.
Deal
Once your stake has been set and you're ready to play, simply hit Deal and the card will be dealt out automatically.
After the cards have been dealt, you have a number of options to determine how you would like to progress through the hand; the main two being Hit and Stand.
Hit: request an additional card from the dealer to increase your hand total.
Stand: stick with the total you already have if you believe it will beat the dealer.
There are also a number of additional bets players can make throughout the game if you wish. To learn more about this before you play, we suggest that you check out our casino blog where you'll find our definitive guide on how to play blackjack that provides everything you need to know about blackjack side bets.