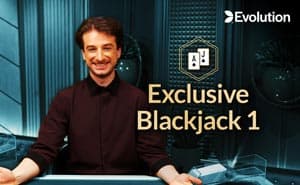 Exclusive Blackjack 1
About Exclusive Blackjack 1
Created by the provider, Evolution, Exclusive Blackjack 1 includes all the classical rules that you can find in the game of blackjack, alongside bonus side betting options such as Perfect Pairs and 21+3.
Experience interactive gameplay with live dealers hosting the games and interacting with players via the chat functionality.
How to play Exclusive Blackjack 1
At the beginning of each blackjack game, you must set a stake you would like to use. After selecting your stake, you can place your bet to begin playing.
This live game of blackjack includes bonus side betting options which can be selected at the start of the game once the dealer has drawn the initial cards.
To win the game, your hand will either need to beat the value of the live dealer's hand or it will need to make up the value of 21. If the total value of your hand exceeds 21, you will go bust and lose the game.
Exclusive Blackjack 1 Special Features
As an Exclusive Blackjack game, you can find a number of unique features within the game, including side betting options and the live dealer setting.
Side Betting
Aside from the standard bet to beat the dealer in the game, you can also place side bets on more specific events.
In Exclusive Blackjack 1, there is the option to bet on Perfect Pairs and 21+3. Betting on Perfect Pairs is predicting that your two initial cards will be matching pairs. Alternatively, the 21+3 bet allows you to bet on the cards you and the dealer receive.
Live Dealer
Available 24/7, the live dealers make for a more interactive version of blackjack as you go head-to-head with the game host.
Through the in-game chat functionality, you can interact with the dealer as the game unfolds and specific events occur.
21.co.uk Review of Exclusive Blackjack 1
Exclusive Blackjack 1 incorporates many of the traditional features we are familiar with, including classical rules and side bets.
To replicate a blackjack game found in physical casinos, the live dealer feature is a great addition, especially with blackjack, a game where you are playing against the dealer.
The exclusive studio design offers a unique feel to the game that sets it apart from other live blackjack games available.