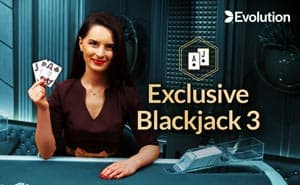 Exclusive Blackjack 3
About Exclusive Blackjack 3
Exclusive Blackjack 3 brings together the popular rules and gameplay of traditional blackjack with exclusive features such as the studio and live dealer setup.
Within Exclusive Blackjack 3, you can find side betting options alongside the interactive functionality, allowing you to connect with other players.
How to play Exclusive Blackjack 3
Once you have loaded the game, first, you will need to set your stake using the in-game controls.
After you've set your stake and are ready to play, you can place your bet. The dealer will close off any further bets once the betting time is complete, bringing about the start of the game.
At the beginning of the game, the dealer will provide you with two cards to make up your starting hand. You can decide whether you wish to hit or stand. Hitting will request an additional card from the dealer while standing indicates you're happy with your hand.
Wins can be achieved by beating the value of the dealer's hand or creating a hand that is worth 21.
Any side bets you wish to place can be made at the beginning of the game before the dealer starts drawing everyone's cards.
Exclusive Blackjack 3 Special Features
Exclusive Blackjack 3 comes with a range of special features to create the exclusive and original feel of the game.
21.co.uk Studio
Experience the blackjack game from the 21.co.uk exclusive lobby, where the dealer will draw your cards and create an interactive gameplay experience.
Side Bets
Rather than the limited betting option of the standard blackjack bet, Exclusive Blackjack 3 offers side betting, enabling you to bet on specific outcomes, such as 21+3 and Perfect Pairs.
21.co.uk Review of Exclusive Blackjack 3
If you're looking for an original twist on blackjack, Exclusive Blackjack 3 delivers you a uniquely designed studio with alternative betting options you can make throughout.
With this being a live game, you can interact with other players in the lobby, as well as the dealer hosting.