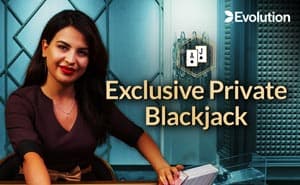 Exclusive Private Blackjack
About Exclusive Private Blackjack
Limited to only one player at a time, the Exclusive Private Blackjack game creates an independent live blackjack lobby for you to experience.
During the game, you go head-to-head with the live dealer as you aim to beat their hand at blackjack.
How to play Exclusive Private Blackjack
At the start of the game, you will need to set your stake between the minimum of £100.00 and the maximum of £50,000.
Once you're ready to play, you can place your bets, and the dealer will start the game.
For the beginning of the game, the dealer will provide you with your first two cards. Depending on the value of your hand, you will need to decide whether you wish to hit or stand. Choosing to hit will request another card from the dealer, whilst standing indicates you are happy with your current hand and don't need any further cards.
Exclusive Private Blackjack includes the option to select side bets, with Perfect Pairs and 21+3 both included.
To beat the dealer in this head-to-head private game, you will need to create a hand of 21 or you will need a hand that is valued better than the dealers.
Exclusive Private Blackjack Special Features
Outside of the traditional game mechanics of blackjack, this game includes a range of special features to create a unique feel of the game.
Private Lobby
Evolution has designed the game with a private feel that includes only one space for the player. This means you go head-to-head with the live dealer as you aim to beat their hand.
Exclusive Studio
As an exclusive, you will notice the original 21.co.uk studio design that gives the game a theme that is unlike any other.
21.co.uk Review of Exclusive Private Blackjack
Evolution has set this variant of blackjack apart with the creation of a private lobby design that is limited to one player. Due to the private theme of the game, the minimum stake requirements are higher than in other games, with the required amount set at £100.00.
Aside from the original nature of the game, you can find a number of side betting options, providing you with the choice to bet on more specific outcomes.