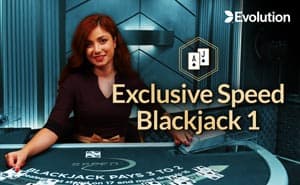 Exclusive Speed Blackjack 1
About Exclusive Speed Blackjack 1
Exclusive Speed Blackjack offers a unique twist on the classical game of blackjack, bringing in mechanics to improve the speed of the gameplay. This comes from allowing players to make their decisions at the same time and dealing the first card to the player who was the fastest to take their pick.
Included within the gameplay are a range of side bets and live dealer interactive gameplay. This is a seven-seat game with the functionality to chat with other players in the lobby, allowing you to react together to what is happening in the game.
How to play Exclusive Speed Blackjack 1
Before you play your first game, you must set your stake to an amount you are comfortable with.
Once you're happy with your stake, you are ready to play Exclusive Speed Blackjack. The round will begin after the betting period has come to a close, and the dealer draws the first two cards to each player.
Although this variation of blackjack includes the speed mechanic, many of the traditional rules remain the same. For your bet to be successful, you will need to beat the dealer by achieving a better-valued hand or making 21.
Exclusive Speed Blackjack 1 Special Features
Throughout the Exclusive Speed Blackjack game, there are several special features to create the original gameplay.
Side betting
At the beginning of each game, there is a choice of side bets to select once you have received your first two cards. This can include options such as 21+3 and Perfect Pairs.
Speed Gameplay
To reduce the time spent on player decisions, Exclusive Speed Blackjack 1 allows each player to participate in simultaneously deciding whether they wish to hit, double down or split.
21.co.uk Review of Exclusive Speed Blackjack 1
Exclusive Speed Blackjack 1 is a unique variation of blackjack with the addition of the speed gameplay mechanic. Additionally, you can also place side bets for an alternative to the standard main bet.
As an exclusive game, you can also experience the unique 21.co.uk studio design where the live dealers guide you through the game.