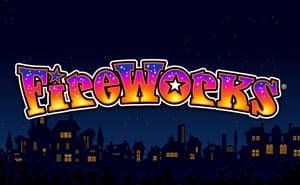 Fireworks
Fireworks slot has 5 reels and 10 paylines, as well as a unique bonus round.
How to Play Fireworks Slot
Press the start button to spin the reels.
Display Various displays are used to show important information to the player during the game.
Fireworks Slot Bonus Round
The bonus is triggered when a firework goes off next to the fifth reel. The firework's fuse wire runs under the 5 reels and is lit at the start of each game. Any reel not landing with 3 identical symbols will extinguish the fuse. When the lit fuse reaches the firework it launches and the fireworks show begins! The player stops a flashing reel at random. This reel (and any with the same symbol) are held whilst all remaining reels are re-spun to either 1, 2 or 3 of that symbol. The bonus can be triggered simultaneously with normal reel wins. Landing a full house will therefore award x2 (even for the Jackpot!). Player can win up to 500 x their stake.