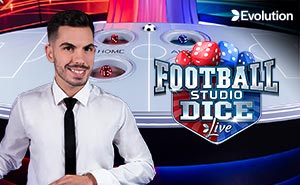 Football Studio Dice
About Football Studio Dice
Created by Evolution, Football Studio Dice brings a football-themed game show to live casino, allowing players to engage with the live dealer and other players.
Based on the principles of a football game, this live dice game takes place in a sports studio as players choose to back the Home or Away side. Scores are created with the roll of a dice, and the team with the highest total wins.
How to play Football Studio Dice
Football Studio Dice is quite a simple game, consisting of two dice for each team. On the table, you will notice that the four dice are placed in automatic machines to roll the dice.
One set of dice is for the "First Half" and the other two are saved for the "Second Half" of the game.
Before the round starts, players will need to place their bets on the following betting options; Home to win, Away to win or the result ending in a draw.
After the dealer has called an end to the betting window, no further bets will be accepted and the dice will roll to reveal the result.
The side that wins is the one with the highest total score after the two dice have been rolled.
21.co.uk Review of Football Studio Dice
Adopting a simple dice concept and combining the game with the world of football makes for a unique live casino experience.
Football Studio Dice is a good choice for both live casino and football fans with the references and studio setting that is installed in the game.