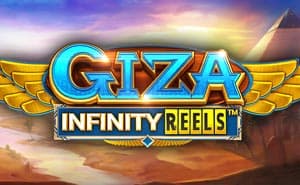 Giza Infinity Reels
About Giza Infinity Reels
The Giza Infinity Reels slot is a traditional-looking top casino online game that presents a fantastic melting pot of all the aspects of Egyptian slot games 21.co.uk players enjoy the most. On the face of it, it offers a classic gameplay experience with a bold design and a generous payout potential, but it certainly packs a bigger punch as you delve deeper into the reels.
The base game begins on a slightly smaller 3x4 reel layout and, as always, payouts are awarded by landing combinations of matching symbols across one of the game's paylines - however, the gameplay witnesses a twist as every winning combination adds an additional reel to the interface, offering you an infinite number of paylines to use in your search for free spins, jackpots and big wins of up to 10,000x your stake.
The symbols on offer tie in seamlessly with the ancient Egyptian theme at hand, your high-value symbols stand as motifs of the gods Ra, Sobek, Sekhmet and Anubis - with the latter offering up the highest payout of them all. Additionally, there are also a number of symbols displaying the Great Pyramids that act as the game's Wild and Scatter symbols, offering players the chance to trigger free spins.
How To Play Giza Infinity Reels
Stake
Set your stake in Giza Infinity Reels by selecting a suitable Total Bet value from the bet settings found at the side of the game interface.
Spin
Once your stake is set and you're ready to play, simply hit the 'Spin' button to trigger the reels and randomise the symbols. Any wins will be highlighted at the end of the round.
Giza Infinity Reels Special Features
Free Spins
Trigger the free spins feature and receive a reward of 10 free games to play through by landing any of the game's pyramid symbols across the reels. Landing any of these symbols again throughout the free spins feature will present players with an additional 4 free spins to play. Once all of the free spins have been spent, players have the option to take the Free Spins Gamble or collect - taking the gamble and winning could see your winnings increased by up to 5x, but a loss could see them reduced.
21.co.uk Review of Giza Infinity Reels
The Giza Infinity Reels slot is a fantastic addition to our collection of best UK casino games from the fantastic Reel Play, offering 21.co.uk players an outstandingly unique gameplay experience that comes complete with free spins, big wins and unlimited paylines to land them across. If you're a fan of the games that bring a twist to the ever-popular Egyptian theme, we recommend you check out the Reels of Egypt slot that brings a bizarrely brilliant combination of ancient history and futuristic space travel.