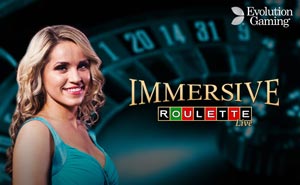 Live Immersive Roulette
What is Live Immersive Roulette?
If you are already familiar with live online roulette, you know that there are some limits in terms of being immersive. Evolution Gaming wanted to overcome some of those limits, so they developed this new title just for that reason. They started by creating a live game featuring high-definition video at up to 200 frames per second.
Next, they created multiple camera angles offered in a Hollywood-style presentation. If you don't know what that means, think about watching an awards show on television. Camera angles change frequently to keep you abreast of everything going on in the auditorium. The multiple cameras in Live Immersive Roulette work the same way.
Finally, the game features specially trained croupiers who are as adept at live presenting as they are managing a roulette game. They know exactly how to play to the camera to deliver a premium experience to players. You get to interact with them as well, making for an even better experience.
An Immersive Live Roulette Experience
Live Immersive Roulette is presented as a high energy experience meant to completely draw you in. The HD video is a good start, but there is also an accompanying audio feed that brings you all the sounds of live casino gaming. You will hear what's going on not only at your table but also at other tables being worked in the same studio.
The roulette wheel is a modern wheel with contemporary styling. Because the game is based on European rules, the wheel features 37 numbered pockets including the single house (zero) pocket. Blue screen technology makes it possible for the studio to project a variety of backgrounds as well as the computer-generated controls players need to participate.
Once the game starts it goes. The croupier manages the game by calling out when no more wagers can be placed. He or she then spins the wheel as normal. Winners are paid while losing bets are cleared from the table. Note this one important point: winning chips remain on the table where they were placed. You must manually clear your chips if you do not want them to remain in place for the next spin.
Playing Live Immersive Roulette
You play Live Immersive Roulette the same way you would any other live roulette game. Whether you are using a PC or mobile device, drag computer-generated chips onto the table at whatever locations you desire. If you don't understand location-based wagering, it would be helpful to study some online resources before you play.
Note that betting in roulette is not as simple as placing chips on a number. Why? Because there are dozens of different wagers all determined by chip placement. You have to know exactly where to place your chips if you want to wager on things like trios, rows, and columns.
It is also helpful to understand the difference between inside and outside bets. The two designations are derived from the locations of the individual bets on the layout. All of the bets placed in the inner region covered by the numbered grid are inside bets. Those placed on the perimeter of the grid are outside bets. The former has higher odds of hitting so offer higher payouts; the latter have lower and lower payouts.
Live Immersive Roulette: Extra Features
The extra features in Live Immersive Roulette begin with the multiple camera angles and Hollywood-style presentation. This alone will keep you engaged throughout. Having said that, you can choose different angles depending on what kind of action you want to see. But it gets even better. Live Immersive Roulette also offers zooming and instant replays.
You can zoom the camera in to enjoy an HD close-up shot of the roulette wheel in action. And at the conclusion of each spin you can also watch a slow-motion replay that captures all the action of the ball falling into its eventual pocket. Slow-motion replays are only available in Live Immersive Roulette – and they are brilliant.
One last feature is the Favourite Bets feature. It is available in all Evolution Gaming live roulette titles. The feature allows you to establish and store up to 15 favourite bets that are playable with the click of a mouse. To invoke the feature, just click the Favourite Bets button at the bottom of the screen, then enter your bets and save them.
Your stored bets will be available for all future live roulette sessions. You can add, remove, and modify your favourite bets at any time.
Want to unlock £5 free to play on Live Casino Games?
Stake £50, Get £5 On Live Casino
Get Our Live Casino Bonus Offer
Full T&Cs apply. New players only. 7 days to claim offer and deposit £50 with further 7 days to wager on Live Casino 1x. Wagering contributions vary. £5 bonus has 3 day expiry to use on any eligible Evolution game.