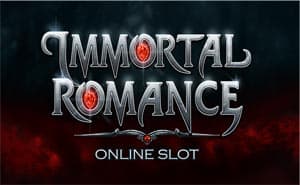 Immortal Romance
About Immortal Romance
Immortal Romance is a 5-reel real money online slot that utilises winning ways instead of traditional paylines. Wild and Scatter symbols are also in play, and Scatter symbols are used to initiate bonus play, too. The game offers five different bonuses that can substantially increase your winnings when the reels fall just the right way.
How to Play Immortal Romance Slot
To start play, determine the coin value you want to work with by using the + and - symbols underneath the coin value displayed near the far left of the screen. Then determine how many coins you want to wager by using the + and - keys under the 'Coins' box at the centre. The maximum amount you can bet is 300 coins.
As with all casino games, when you are satisfied with your coin value and number of coins bet, click the 'Spin' button at far right to initiate play. The game will make one manual spin.
Immortal Romance Slot Special Features
243 Ways to Win in Immortal Romance Slot
Win ways offer a different way of winning that tends to be more interesting than standard paylines. The difference with win ways is that the symbols that combine to create wins don't have to be in the same reel position. As long as the combination originates from the left and the like symbols occur on consecutive reels (regardless of position), a win is registered. All 243 win ways are in play for every standard spin.
Immortal Romance Slot Wild and Scatter Symbols
The game's logo acts as the Wild symbol in Immortal Romance. It can be used in conjunction with other symbols to create winning combinations, doubling the value of any win. It can also create its own winning combinations; those combinations are not doubled. The Wild symbol does not substitute for the Scatter symbol.
The Scatter symbol in Immortal Romance is the door knocker. It generates separate wins when two or more appear on the reels during standard play. Three or more Scatter symbols will trigger the main bonus game and its additional bonuses.
Immortal Romance Slot Chamber of Spins Bonus Game
Although there are five bonus games in Immortal Romance, four are initiated through the Chamber of Spins bonus. This initial bonus is triggered by landing three or more Scatter symbols in standard play. Please note that two of the four bonus games contained within the Chamber of Spins are progressive. That is, you must trigger the Chamber of Spins multiple times to unlock each subsequent bonus.
The four bonus games are:
Amber Bonus – The Amber bonus game is unlocked by default. This is the first bonus play when triggering the Chamber of Spins. Amber awards 10 free spins with all wins multiplied 5X. Additional free spins can be earned by landing three or more Scatter symbols during the bonus round.
Troy Bonus – The Troy bonus game is available from the fifth bonus trigger. It is similar to Amber in that 15 free spins are awarded and can be re-triggered within the bonus round. Wins are multiplied by 2X or 3X, depending on vampire bat symbols that might appear.
Michael Bonus – The Michael bonus is unlocked after you trigger the Chamber of Spins 10 times. This bonus awards 20 free spins and activates a special Rolling Reels feature that replaces symbols used to form winning combinations with new symbols that can generate additional wins. Progressive multipliers are added for each win in this round, up to 5X.
Sarah Bonus – The Sarah bonus is unlocked after the Chamber of Spins is triggered 15 times. This bonus awards 25 free spins along with a special Wild Vine symbol that will transform 14 reels into Wilds if it lands on reel 3 during bonus play. Additional free spins can be won in this bonus game – one for every Scatter symbol.
Immortal Romance Slot Wild Desire Bonus Game
The Wild Desire bonus game is the fifth bonus game in Immortal Romance. It is randomly initiated during standard play, and Wild and Scatter symbols are not active during this bonus. What completes Wild Desire is the fact that any of the reels (up to all five) transform into a collapsed wild reel for extra winning potential. Even better, you can win multiple times on the same win way by landing winning combinations of different symbols. If multiple wins occur using like symbols, only the highest value win is paid.
Additional Information on Immortal Romance Slot
Although Immortal Romance utilises winning ways instead of paylines, all winning combinations must still originate from the far left position. Winning combinations consist of three or more like symbols (including Wilds) landing on consecutive reels. Wins in standard play are calculated by multiplying the line wager by the value of the symbols, then multiplying that number by any multiplier currently in play.
Scatter wins are calculated by multiplying the number of coins wagered by the value of the scatter combination. Scatter wins are paid separately, and Scatter symbols do not have to land consecutively in order to generate a win. During bonus play, the coin value and number of coins wagered is used to calculate wins.
Immortal Romance has a transaction limit which will immediately cause the game to stop when reached. Any game malfunction or misuse will also stop play, voiding all previous pays and plays.