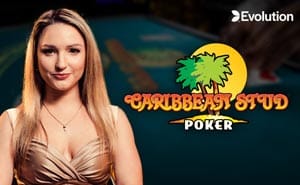 Live Caribbean Stud Poker
What is Live Caribbean Stud?
Caribbean Stud is a comparatively new style of casino card games first developed in the mid-1980s. The live, online version brought to you by Evolution Gaming is made possible by a licence agreement between Evolution and Games Marketing. What does this mean to you? It means you can only play Live Caribbean Stud at online casinos that offer Evolution Gaming titles.
Live Caribbean Stud is a variation of five-card stud with one important difference: every player at the table plays only against the house. That means there is no bluffing or deception of any kind. You simply play your hand against the house to see who wins.
Another thing to note is that playing exclusively against the house makes for faster play. You do not have multiple players staring one another down or trying to figure out one another's strategy. Play is straight up and direct, so the pace is quicker. Caribbean Stud represents the basic concepts of stud poker without the time commitment involved.
How Does Live Caribbean Stud Work?
Logging in to Live Caribbean Stud seats you at a table with an experienced dealer ready and waiting to go. If there are other players in the room, there may be a game in progress. That's not a problem as you can join in at any point. Just place your wager at the start of the next hand and you are good to go.
Live video and audio are what make it possible for you to join the Live Caribbean Stud room. You will see all the action unfold on your computer or mobile device screen; you will hear all the sounds of the game provided your device's sound is turned up.
You interact with the game using the computer-generated controls found at the bottom of your screen. Make your wagers by dragging and dropping chips, and use the additional controls to discard, raise, and fold. It is all fairly straightforward. You should have no trouble playing if you have experience with other live card games.
How Do I Play Live Caribbean Stud?
The point of Caribbean Stud is to build the best five-card hand possible. Remember that you are playing against the house only, so what other players are doing is irrelevant. A hand begins with the player anteing up. The ante is the minimum wager required to get in on the upcoming hand.
Next, all players at the table receive five cards. The dealer also receives five cards, one of them being the hole card. It is dealt face up so everyone at the table can see it. Note that the dealer must have at least an ace and king, or higher, to qualify for that hand. Failing to qualify means the player wins.
Once the cards are dealt, players can choose to raise or fold. The dealer's complete hand is only revealed after wagering is finished. Because you are playing exclusively against the house, you only have the opportunity to raise once, so make it count. The house is obligated to call your raise and reveal the house hand.
That's really all there is to Live Caribbean Stud. A game is complete when the dealer's shoe is empty, at which time it is replaced with a new shoe. You can keep playing or stop at that point; it is entirely up to you.
What Extra Features Are Available in Live Caribbean Stud?
Live Caribbean Stud plays with a couple of extra features that make the game a bit more interesting. Here is a brief description of each one:
5+1 Side Bet – This popular side bet combines the player's five cards with the dealer's hole card. The object is to make the best 5-card hand possible using the six cards. Get three of a kind or better and you win the side bet. You could win up to 1,000 times your wager depending on the hand you form. Note that the 5+1 bet has no bearing on the rest of the hand.
Jackpots – Live Caribbean Stud offers two kinds of jackpots. The first is a progressive jackpot that can be won with an additional side bet and a royal flush. The second is a static jackpot of lesser value; you can win this prize by placing the same side bet. Get three of a kind or better and you could win one of the two jackpots.
Live Caribbean Stud is a fast-paced five-card stud variation with a loyal audience. If you have not yet played it, now is as good a time as any to give it a try.
Online Poker vs Live Poker
Online Poker & Live Poker remain popular with season veterans and casual players alike. If you looking to weigh up the pros and cons of each then take a look at our Online Poker vs Live Poker blog post.
Play Online Slots at 21.co.uk
Accompanying our outstanding collection of live casino games is a varied selection of reels for players to enjoy. From the intergalactic Starburst slot to the mysterious Genie Jackpots, you can play online slots at 21.co.uk whatever your preference.