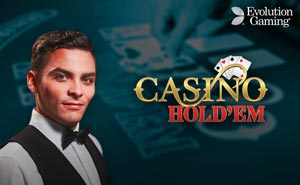 Live Casino Hold'em Jumbo 7
You will be greeted by the live dealer who will interact with you throughout the game. You can send chat messages to the dealer, and you can hear the dealer's response via the built in audio. The game is played in real time and in TV quality video streamed straight to you via your PC or tablet. You can view all of the action as the cards are dealt and the game is played, as you place your bets.
Basics of Live Poker
Our Live Poker game is based on the popular hold 'em version of the game. To play, simply login to your virtual poker room and greet your dealer. You will be able to interact with the dealer by using the live chat feature; your dealer will respond by speaking to you. Everything you see and hear is live and in real time.
The dealer guides you through the game step-by-step. To begin, you will place your initial wager by clicking on the poker chips at the bottom of your screen. You will then be dealt two cards; the dealer also lays three cards at the centre of the table, face up. This is called the 'flop'.
A round of wagering ensues followed by a fourth community card placed face up. This is known as the 'turn'. Another round of betting is followed by a fifth community card, called the 'river'. You then place your final wager and turn up the cards to see who wins.
Along the way you can check (pass on betting), call or raise the bet, or fold. Note that folding means you are out of the hand and you lose all the chips you wagered.
The goal here is to use your two cards along with the five community cards to form the best five-card poker hand possible. Poker hands are ranked in order of importance. They are explained below.
Live Poker Hands
High Card – If no player at the table can create a legitimate hand using all seven cards, the player with the highest card wins.
Pair – Two like cards (two sevens, two nines, etc.)
2 Pair – Two pairs of like cards
Three of a Kind – Three like cards
Straight – Five consecutive cards (2-6, for example)
Flush – Five cards all the same suit
Full House – A pair and three of a kind together
Four of a Kind – Four like cards
Straight Flush – Five consecutive cards, all the same suit
Royal Flush – The 10 through Ace, all the same suit
The real crooks of hold 'em poker is learning how to wager based on what other players are doing. What's more, you are not playing against the house unless there are no other plays at your table. Otherwise, you are playing against live opponents utilising the same strategies you are using in your attempt to win. There is a reason hold 'em poker is one of the most love poker games in the world.
OPTIONS
You can select and change your camera view from the Settings button in the toolbar. During your live game, you have the option of 3D View, Classic View, or Pairs View. If you choose the 3D View, your seat and designated betting area will appear directly on the live-stream video. Alternatively, select Classic View to interact with a larger, more defined graphical depiction of the game table.
##Online Poker vs Live Poker Whether a seasoned veteran or casual poker player both online poker and live poker are equally loved. If you're looking to find out the differences in each then take a peak at our Online Poker vs Live Poker blog post.
Want to unlock £5 free to play on Live Casino Games?
Stake £50, Get £5 On Live Casino
Get Our Live Casino Bonus Offer
Full T&Cs apply. New players only. 7 days to claim offer and deposit £50 with further 7 days to wager on Live Casino 1x. Wagering contributions vary. £5 bonus has 3 day expiry to use on any eligible Evolution game.