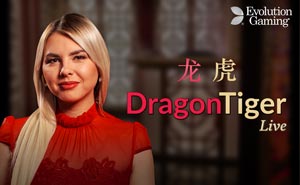 Live Dragon Tiger
About Dragon Tiger Slot
Dragon Tiger has been described by some as a variation of Baccarat. The big difference is that Baccarat is based on three cards per hand while Dragon Tiger involves just one card. The betting systems for both games are nearly identical. Players bet on which side they think will end up with the highest card on the next row.
As for the origins of the game, it is comparatively new by casino gaming standards. It does not trace its roots back to ancient Asia despite the game being based on an Asian theme.
Evolution Gaming's version of Dragon Tiger is the version you play here. We chose Evolution Gaming because they are an industry leader in live casino games. Their game offers a very elegant presentation along with reliable gameplay that keeps you engaged from start to finish.
Dragon Tiger Game Description
It is described as a 'comparing' game because outcomes depend on comparing the cards dealt. A complete game starts with a full shoe of eight decks of cards. Cards are drawn one at a time until only the equivalent of one deck remains. The shoe is then replaced with a new one.
Each hand can only have one of two results: a winner and loser or a tie. Your goal is to correctly guess the outcome and place your wagers accordingly. Wagers pay 1:1 on winning bets. You lose your wager if you choose the wrong side. In the event of a tie, the house keeps half your wager and returns the other half to you.
When you first login to Dragon Tiger, you will see a live video shot of your dealer and play table. The table is very minimalist in nature. Behind the dealer are all the trappings of the studio. Depending on the camera angle, you might also see other dealers working additional Dragon Tiger tables.
The obvious benefit here is giving you a live casino experience by allowing you to see the sights and hear the sounds in real time. During peak times there might be quite a bit of action going on in the studio.
Note that your dealer is a professionally trained individual who knows how to make the most of a live gaming experience. These are dealers who have been trained to play to the camera and, as a result, to you as well. You may not be physically in the casino, but you will feel like you are.
Playing Dragon Tiger
Playing the Dragon Tiger casino game is very simple. Once the game begins, you place your wagers based on the Dragon, the Tiger, or a tie. You do so by placing chips on the appropriate side. Note that you only have a limited amount of time; there is a digital clock underneath your chips to constantly remind you how much time is remaining. When that clock reaches zero, the next two cards will be drawn.
To the left of the game controls is a scoreboard that keeps track of how many hands each side has won. To the right is another board that tracks all of the players at the table. You will be able to tell just how those other players are wagering as the game progresses. This is important information inasmuch as it gives you a better understanding of what might be coming – based on the principle of 50-50 odds, of course.
Extra Features in Dragon Tiger
The extra features in Dragon Tiger are offered in the form of two side bets. The first is the tie bet. If you do not bet on a tie and the two drawn cards are of equal rank, you lose half your wager. But if you do bet on the tie, you not only get half of your wager back, you also win a payout of 11-to-1.
The second side bet is known as the suited tie bet. Here you are betting that the two drawn cards will be of equal rank and the same suit. Remember, the game is played with eight decks of cards, so matching suits is entirely possible throughout the game. Winning this bet pays out 50-to-1; you also get half your wager returned to you.
Dragon Tiger is a simple game that is tremendous to play. If you are looking for a fast-paced game with few rules to worry about, this is the game for you.