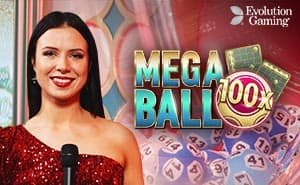 Live Mega Ball
About Mega Ball
Here at 21.co.uk online casino our collection is brimming with brilliant live casino titles that provide our players with a fantastic gameplay experience. However, we've never bared witness to something as unique as Mega Ball, as it offers our players fast, innovative and potential-packed gameplay with a twist.
Brought to our collection of UK casino games by live casino heavyweights Evolution Gaming, Mega Ball presents a never before seen hybrid-style game that perfectly marries the vastly popular online bingo with the deeply engaging game show-based games, such as Live Dream Catcher and Monopoly Live, which both hit big with our 21.co.uk players.
The aim of the game is to match as many numbers as possible to fill the lines of your chosen Mega Ball card as random numbers are drawn from the machine. As matching numbers are called they will be crossed off your card and should you match with the famed 'Mega Ball' your winnings could be multiplied by up to 100x.
How To Play Mega Ball
Buy Cards
Before the game begins you must decide how many cards you would like to purchase and the wager you would like to play with by selecting the card value(s). You can alter the value of your cards throughout the betting time if you change your mind.
Refresh Numbers
Each of your cards will be displayed in the game interface, with the option to zoom for a closer look if you need. Should you decide you would like to switch the numbers on any of your cards, simply hit the relevant refresh button and you'll receive a new set during the betting process.
Ball Drawing
Once the betting time has elapsed you will no longer be able to refresh your card numbers or change your card values. Numbers will then be drawn from the machine in rapid-fire motion and any cards you hold that match will be crossed off as they are drawn.
Mega Ball Multiplier
After the Ball Drawing has ended, a randomly valued multiplier between 5x and 100x will be shown on the screen. Then a final ball is drawn from the machine to reveal the number of the titular Mega Ball. Should this number complete any lines on your cards your winning payout will be multiplied by the multiplier value displayed.