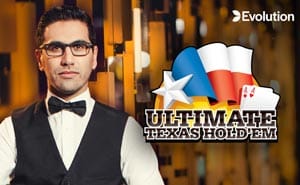 Live Ultimate Texas Hold'em
Play The Ultimate Texas Hold'em Game
Texas Hold'em is a variation of five card stud that involves multiple layers of wagering along with several deals. In the standard game played in a land-based casino, all the players at the table compete against one another and the house. Ultimate Texas Hold'em is different. Players compete only against the house. This allows a virtually unlimited number of players to all play simultaneously.
We bring you Ultimate Texas Hold'em from Evolution Gaming, one of the best live Texas Hold'em games on the market. Game designers have created an environment featuring a live dealer and real table connected to the outside world via live audio and video feeds. Blue screen and computer technology generate the video game controls players need to participate.
All the action on your screen occurs in real time. You and all of the other players at the table are seeing the cards as they come up. You are placing your wagers against the house in real time. This creates a level of involvement equal to what you might experience playing at a land-based casino. Best of all, you are playing right from the privacy of your own home, office, or anywhere else you have an internet connection.
The point of Texas Hold'em is to build a five-card hand that is stronger than that which the dealer holds. This is accomplished during multiple stages of dealing, each of which is followed by a round of bets. You form your 5-card hand using your own two cards and the five community cards dealt face up. Create a hand better than what the dealer holds and you win that hand.
How to Play Texas Hold'em
The basic rules of Texas Hold'em apply to Ultimate Texas Hold'em, though some have been slightly modified to accommodate you playing only against the house. The game starts with a full shoe and continues until all cards have been played. You start a hand by placing the ante and blind bet on the table. You are then dealt your first two cards. From here you can stand (check), raise, or fold.
The dealer then deals three community cards face up. You wager again, followed by the fourth community card being dealt. Another round of wagering occurs before the fifth community card is turned up. You wager one more time, the dealer's hand is revealed, and the winner is declared.
Keep in mind that playing against the house limits the wagers you can make in between card turns. For example, you may choose to raise after the flop. The house has no choice but to call that raise. You will not have another opportunity to raise before the next card is turned. This is one of the rule modifications that was necessary to accommodate playing exclusively against the house.
Throughout the game, you will be able to interact with the dealer and any other players at the table using a text-based chat tool. Your dealer can respond by speaking to you, so make sure your sound is turned on. You can leave whenever you're ready to, even if your game is ongoing.
Ultimate Texas Hold'em Bonus Play
Ultimate Texas Hold'em is enhanced by two bonus bets built into the game by Evolution Gaming designers. Those two side bets are the Bonus Bet and Progressive Jumbo 7 Jackpot bet. The latter pays out when the combination of the community cards and the player's cards create a seven-card straight flush.
Because this side bet is based on a progressive jackpot model, every player who places the bet and loses ends up contributing to the jackpot. The jackpot keeps growing until a player eventually wins it. There is no cap!
The Bonus Bet is another side bet that combines all seven cards to create a variety of poker hands. It pays out smaller prizes based on the hand formed. Both of the side bets must be placed at the start of the hand; neither is affected by the eventual outcome of the hand in question. Both pay even if the player folds.
Ultimate Texas Hold'em is your game if you are a fan of this variation of poker. You can play Ultimate Texas Hold'em any time you like by logging in to our casino with your mobile device or computer.
Online Poker vs Live Poker
Online Poker and Live Poker both remain extremely popular with both seasoned veterans and casual players. If you're interested in weighing up the pros and cons of each then take a look at 21.co.uk's Online Poker vs Live Poker blog post.