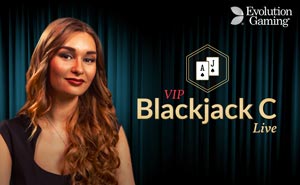 Live VIP Blackjack C
About VIP Live Blackjack
21.co.uk is thrilled to offer every player on our site access to both online blackjack and Live Blackjack. We have plenty of blackjack titles to keep every player entertained. However, we also offer a number of VIP-only titles for players just like you. VIP Live Blackjack is one of them.
This highly entertaining Live Blackjack game comes to you from a dedicated live casino studio hosting multiple tables around the clock. Each table is hosted by a professionally trained dealer-presenter who manages the action and keeps players engaged. Players interact with the dealer and each other players using a built-in chat tool.
What makes VIP Live Blackjack so incredible is that everything you experience is happening in real time. Through your mobile or web browser, you have access to the blackjack table and a full range of new casino games thanks to state-of-the-art technology. HD video cameras provide a crystal-clear image while you simultaneously hear the sounds of the studio coming from your device's speakers. Computer-generated graphics support your experience with the buttons and chips you need to participate.
Betting Behind
Each VIP Live Blackjack table can accommodate up to seven seated players. That means you can get a group of friends together and all play at the same table - as long as there are open seats. Better yet, you can make new friends by joining a table consisting of players you have never met before.
Betting from behind is another option. It allows you to bet based on a seated player's hand when no open seats are available. You can continue betting behind the same player or switch players as you see fit. Betting from behind is a great way to get in on Live Blackjack even if all the seats are taken.
Higher Limits and Side Bets
As you would expect from a VIP game, this version of Live Blackjack offers higher bet limits for VIP players. Higher limits mean higher payouts if you win. And with VIP Live Blackjack, you can win even if you lose the blackjack hand you are currently playing. How? By placing and winning side bets.
Perfect Pairs and 21+3 are the two side bets in VIP Live Blackjack. Both are fairly common side bets in the blackjack world, so you will find plenty of information online if you would like to learn more about how they work. Needless to say that the two bets must be placed before the first turn of the cards in any given hand.
There is more we could tell you about VIP Live Blackjack here at 21.co.uk. But there's no better way to learn all of the finer details than sitting down and playing the game.