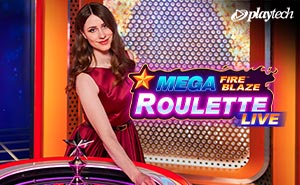 Mega Fire Blaze Roulette
About Mega Fire Blaze Roulette
View the fiery wheel in Mega Fire Blaze Roulette, the live roulette casino game that brings about unique bonus features and gameplay that sets certain numbers alight for potential improved rewards.
How to play Mega Fire Blaze Roulette
How to set your stake
Before each round begins, the dealer will announce a betting window where you can select your stake and bets. During this window, you will have the chance to adjust your stake amount to one you are comfortable with.
How to Win
Wins are achieved similarly to those in a classical game of roulette by correctly predicting which segment of the wheel the ball will land on. However, there is a twist.
Throughout the game, there is a chance for fire numbers to be ignited. If your bet is on a fire number and the ball lands in that segment, you will be entered into the bonus round, where multipliers will be visible.
Special features in Mega Fire Blaze Roulette
Mega Fire Blaze Roulette has one main bonus feature that is triggered via the game's randomly selected fire numbers.
Fire Blaze Bonus Round
Throughout the game, Fire Blasts can randomly occur for each round, revealing which numbers will be the fire numbers. When this happens, there is a chance for up to ten numbers to be selected.
In the bonus round, you will be presented with a 36-slot grid where several prizes are visible. Filling the grid can award players with multipliers and cash prizes if successful.
21.co.uk Review Of Mega Fire Blaze Roulette
Mega Fire Blaze Roulette is a great alternative to classical live roulette games, adding in bonus fire numbers, as well as the 36-slot grid for potential multipliers and cash prizes.
This game also captures the best live casino has to offer with the use of live dealers providing an immersive gameplay experience.
Other games from this provider
You can discover other live titles from this provider, including options such as: