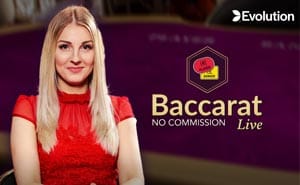 No Commission Baccarat
No Commission Baccarat - What you need to know
One of the standout factors of Baccarat compared to other table games is that it usually operates with a commission system.
And this brings us nicely to the standout feature of No Commission Baccarat, as the name suggests, there are no commissions. Evolution Gaming, famous for games such as Crazy Time, has instead opted to adjust the payouts slightly to give the game a more traditional house edge.
However, that being said, this could also potentially impact the way you play No Commission Baccarat. As well as this main change to the format, it also has six side bets, and a high-quality streaming experience, as you'd expect from Evolution Gaming.
Playing No Commission Baccarat
No Commission Baccarat is as easy as playing the traditional version of the game, so there's no need to worry about extra rules. Evolution Gaming has designed a user-friendly interface that features a variety of betting chips at the bottom of the screen so you can place your bets with ease. You'll also be able to see the bets made by other players, adding to the interactive side of the game.
In line with the standard Baccarat rules, if the dealer's hand is a total of 6, they will win automatically, and in this case, if you've made a banker bet, you'll be paid at 1.50 odds. This is where No Commission Baccarat has made its slight adjustment to the statistical odds, giving the house a slight advantage.
Bonus Features in No Commission Baccarat
As well as the standard betting options - banker, player, or a tie, there are an extra six 6 side bets. However, although the Player/Banker Pairs and Player/Banker Bonus are essentially two sides of the same coin, there are really four distinct side bets:
Player/Banker Pairs: This pays out at 11:1 if either the banker or player is dealt with a pair. You can only place a Pairs bet on one side - either player or banker.
Perfect Pair: If one or both sides are dealt a perfect pair (two cards with the same value and suit) the bet will win. If one side is dealt a perfect pair, it pays out at 25:1, but if both sides have a perfect pair, it pays out at 250:1.
Super 6: You win a Super 6 bet if the banker automatically wins with a hand value of 6. The payout stands at 15:1.
Player/Banker Bonus: To win this bet, either the player or banker will need to be dealt a natural 8 or 9, or there needs to be a 4-point difference in the outcome.
The standard win in the game has a 1:1 payout - apart from a banker win with a value of 6, which pays out at 0.5:1.
21.co.uk Review Of No Commission Baccarat
Baccarat is a popular live casino game, and the No Commission feature makes for an interesting change. That aside, the game is well-designed and perfectly executed. Evolution Gaming is famed for its high-quality games, and this doesn't disappoint. It looks great, has a great concept, and it's well worth a look.
If you are a fan of Evolution and want to try something a little different, then games such as Evolution's Live Roulette and Lightning Lotto are well worth a look.