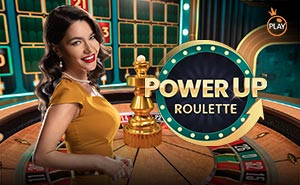 PowerUP Roulette
About PowerUp Roulette
Based on the classical game of European roulette, the PowerUp Roulette game from Pragmatic Play, includes up to five bonus features and a maximum win of up to 8000x the stake.
How to play PowerUp Roulette
As this is a European roulette game, you can expect to find 37 different pockets on the wheel, with one zero segment.
During the betting window, you will have 18 seconds to select your bet before the live dealer spins the wheel and closes off any further bets. As the roulette wheel begins to spin, you will notice that some of the segments become highlighted. These are your PowerUp numbers.
If a ball lands within a PowerUp number pocket, a special bonus will be triggered, potentially providing improved payouts.
Within the game, you might notice the section with a range of horizontal lines displayed. These lines are an indication of how high the multiplier value could be. If more lines are previewed, the multiplier value is likely to be higher when its revealed.
PowerUp Roulette Special Features
PowerUp Numbers
For each round, 3-5 different pockets will be randomly selected to become the PowerUp numbers. These pockets have the potential to provide boosted payouts if the ball lands during a round.
21.co.uk Review of PowerUp Roulette
PowerUp Roulette retains all the classical elements of the popular roulette game, adding a slight twist with the added PowerUp numbers.
With PowerUp numbers appearing in every round, there is the potential to land improved payouts of up to 8,000x the stake.
As this is a live casino game, there is also the added chat functionality, providing you with the option to interact with the dealer and other players.