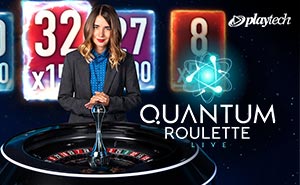 Quantum Roulette Live
About Quantum Roulette Live
First released in September 2019 by PlayTech, Quantum Roulette Live is now a staple in online casino. Users bet on its wheel spins via the eye-catching visuals it presents and a max win of up to 500x. Note that this is only one in a series of games boasting the Quantum label from PlayTech that includes several roulette picks and one named Quantum Blackjack Plus. Without question, the addition of multipliers in live table games has become a growing theme in the past few years, with Evolution pioneering this concept. Quantum Roulette Live seeks to take it to a new level, blending it with the European variant, whose gameplay sees the addition of five multipliers overlaid on straight random numbers. These are chosen by an RNG algorithm, with non-multiplier numbers paying 29:1 in this game.
PlayTech utilises an Auto Slingshot wheel in Quantum Roulette live, meaning that the dealer does not interact with it, as it is controlled by compressed air and motors. This gives the game a futuristic vibe and improves the originality, something that the video space-like backdrop also significantly contributes to.
How To Play Quantum Roulette Live
How to Set Your Stake
Before a round begins in Quantum Roulette Live, a stake size must first be selected. You can do so using the chips in the lower right corner of your screen. There are twenty seconds to choose your numbers on the feature betting grid before wagering closes and the round starts.
How to Play Quantum Roulette Live
In short, this game is played as your standard European roulette variation. Before the start of any game round, a thirty-seven number grid pops up, allowing players to choose straight wagers of combination ones. As cited above, players have twenty seconds to make up their minds. You can bet on high/low number groups, make even/odds wagers, black and red ones, select lines, and stake on the first, second, or third twelve numbers landing.
Quantum Roulette Live Bonus Features
Building upon the foundation that Evolution set in its Lightning series, Quantum Roulette Live implements random multipliers to enhance classic wheel-spinning action and bring it to a new level. Hence, at the start of a round, an RNG chooses up to five straight-up numbers to have multipliers overlaid on them, and these can go up to the maximum win of this game, which is 500x. Remember that these can only be applied to straight numbers and will only produce their prize if the ball finds a home after the wheel stops spinning.
21.co.uk Review Of Quantum Roulette Live
For those looking to play live game shows and roulette ones like Mega Roulette Live PlayTech's Quantum Roulette Live could be a good option. Using the random multiplier mechanic pioneered by Evolution Gaming and pairing it with an atmospheric studio setting, PlayTech has managed to elevate the European version of this casino classic to a whole new degree of immersiveness.