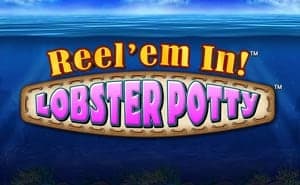 Reel' em In Lobster Potty
Reel'em In Lobster Potty slot is played on 5 reels, 3 rows and 20 paylines.
Reel'em In Lobster Potty Slot Buttons
Spin
Once you have selected your 'Stake / Line' value you can press the Spin button to begin the round.
Stake / Line
You can change your Stake / Line by using the buttons either side. The '-' button will decrease the 'Stake / Lines' and the '+' button will increase the 'Stake Line'.
Help
You can select the Help button to view the winlines available in Reel'em In Lobster Potty and how to activate the bonus features.
Big Bet
Select the 'BB' button to enter the Big Bet Game.
Bonus Features
Reel Em In Bonus
The Reel Em In Bonus is activated by receiving 5 Sandy backgrounds all 5 of the reels. Once this bonus feature is activated reels 1 to 5 will become active and those active reels contain cash values, blanks and boot symbols which are used to close the reel. The Bonus will then continue until all of the active reels have been closed. At this point the total value of all of the small meters are awarded.
Reel Em In Lobster Pot Bonus
The Lobster Pot Bonus is activated by receiving 5 sandy backgrounds on all 5 of the reels. The Lobster Pot Bonus has 3 pots and these are; Gold, Silver and Bronze. During the Lobster Pot Bonus the centre reel only will spin. It will then come to a stop and highlight a Lobster. The Lobster Pot value that is highlighted will be the one paid out.
Reel Em In Big Bet Awards
A Big Bet Game consists of 5 linked spins of the reels. All of the winns will be accumulated over the 5 spins and any winnings will be paid out after the final spin.
Reel Em In More Wilds, More Often
The player will be given 5 Big Bet Spins. There would be an increase in the number of 'Wild' symbols that are shown on the last 3 reels.
Reel Em In Big Bite Bonus
The Big Bite Bonus is given randomly after the reels have stopped spinning, but before any winnings are paid out to the player. A shark will then swim up over the a random reel and it will guarantee to turn one of them symbols into a 'Wild x2' symbol. This will mean the symbol is a Wild but will offer double the winnings in any winning combination it is used in.
Reel Em In Mega Bite Bonus
The Mega Bite Bonus has a variety of different multipliers that may be given with the Wild symbol. In addition to the 'Wild X2' it could also offer one of the following; X3, X4, X5 or X10. The multiplier symbol will be selected at random.