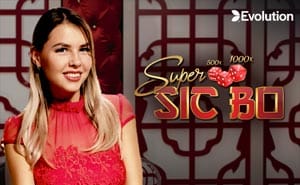 Super Sic Bo
Introduction to Super Sic Bo
Sic bo is a remarkable live casino dice game. Play consists of three identical dice and a betting table. Players have a limited amount of time to place their bets by putting chips at various locations on the table before the dealer rolls the dice.
Each roll of the dice presents multiple possibilities depending on the face-up position of each die. The goal is to place your bets based on how you think the dice will land. The varying bets in sic bo offer payouts commensurate with their probability. That is really all there is to it.
Super Sic Bo Gameplay
In Super Sic Bo, the manual shaker is replaced by an automatic dice shaker. This device is essentially an electrically-activated platform mounted on a table and enclosed in glass. This arrangement means the dice are always visible so that there is no risk of the dealer changing dice when you are not paying attention.
The betting table appears as a virtual table near the bottom of the screen. It looks identical to a sic bo betting table you would find in a land-based casino. To bet, just drag your chips on to the corresponding table locations. The dealer will announce an end to wagering before the dice are rolled.
Betting Made Better
So what is it about Super Sic Bo that makes it a better game than a standard game at a land-based casino? Random multipliers. Just before the dice are rolled, the Super Sic Bo software might choose a random multiplier to be applied to that roll of the dice. Multipliers are applied to specific positions on the betting table.
Let us say you choose a particular bet position and the software applies a random multiplier to it. If the next roll of the dice makes you a winner on that position, your winnings are boosted according to the chosen multiplier.
Know Your Bets in Super Sic Bo
Sic bo is truly a game of chance in the sense that every roll of the dice produces both winners and losers. Your key to playing this game is to know your bets. Super Sic Bo offers 50 different betting options based on the following:
· Small/Big · Odd/Even · Total · Single · Double · Triple · Any Triple · Combination
The two most popular bets are the small/big and odd/even bets. These are bets based on the combined value of all three dice. You can start here but learn about all of the other bets as well. It is these that make Sic Bo so special.
Super Sic Bo Review
We can't make claim to being one of The Best Online Casinos in The UK without including Super Sic Bo. If you're a fan of playing Sic Bo in a land-based casino then we think Super Sic Bo will definitely provide you with an equal experience. Being streamed in high definition, and presented by expert dealers transports you to the casino floor. For those that haven't played this game is simple to learn making it suitable for any level of player.