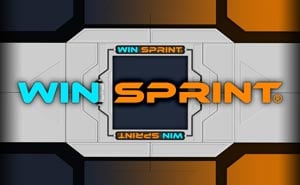 Win Sprint
Win Sprint slot is played on three reels, three rows and five paylines.
Win Sprint Slot Buttons
Spin
Select the Spin button in Win Sprint Slot to begin the round.
Autoplay
Select the Autoplay button to Spin the reels for a selected number of rounds at the stake of your choice in Win Sprint Slot.
Paytable
Select the Paytable button to view the winlines and how to activate the Win Sprint bonus feature in Win Sprint Slot.
Win Sprint Slot Bonus Round
Win Sprint Bonus
You will activate the Win Sprint Bonus round when you receive W, I and N on consecutive reels. Each line of W, I, N will award you with +1 win spin and +1 multiplier. Each win spin will randomly reward you with between 1 and 4 lines of any symbol. Symbol wins are then multiplied by the displayed multiplier and added to the running total. During the Win Sprint Slot bonus round each additional line of W, I and N awards +1 multiplier. All remaining Win Spins are subsequently multiplied by the new multiplier value. The Win Sprint Slot bonus round will end when there are either no spins available or the maximum payout has been reached. If you do receive the maximum payout the rest of the spins remaining will be cancelled. When the Win Sprint Slot bonus round is complete, a value is displayed over the reeks which informs the player how much was awarded in total from the bonus round.